3 Bold Predictions For The Second Half Of 2022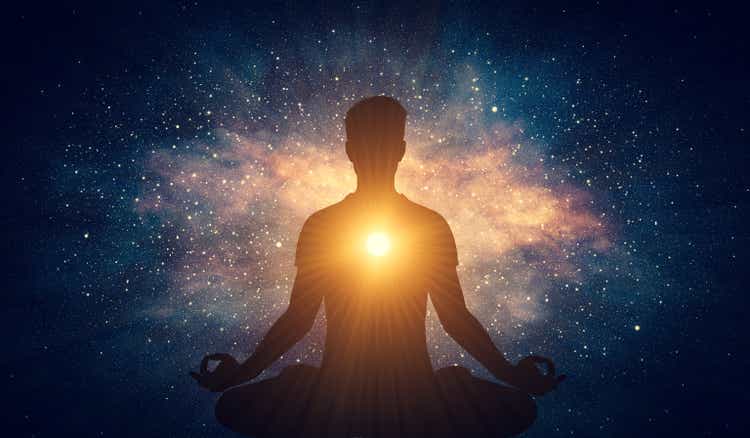 "When a man's neck's in danger, he doesn't stop to think too much about sentiment." ― Agatha Christie
The first half of 2022 mercilessly ended last week. The S&P 500 was down approximately 20%, the worst opening six months for this index since 1970. The NASDAQ was off some 30% while the small cap Russell 2000 fell roughly 25%.
Stocks crumbled throughout the first half of the year thanks to the highest inflation levels since the early 80s, record gas and diesel prices, horrid consumer sentiment and rising interest rates. The war in Ukraine only added to those woes and this conflict is likely to drag on for at least the end of the year and no serious peace talks are currently ongoing.
So what will the second half of 2022 bring for battered investors? 3 predictions are highlighted below.
Recessionary Fears Turn out to be Well Founded:
The U.S. Administration and other government officials keep stating that a recession is not 'inevitable'. Unfortunately, many of these same officials were articulating inflation was going to be 'temporary' and 'transitionary' as 2022 commenced as well. They look like they will be just as prescient this time around.
The fact is that for most consumers, the recession has already started. With wage growth running five to six percent annually and inflation running north of eight percent, the average consumer has lost buying power for 15 straight months. This has depleted savings as the average savings rate is now back under five percent, the lowest since 2008.
The lower and middle income rungs have been particularly stung by rising prices as a large chunk of this population commutes and/or rents. With rents up in the middle teens on average last year, gas up more than 50% and grocery prices rising by more than 10%; these consumers have been put in a vice.
They will likely be joined by the upper income strata in short order. The stock market evaporated $11 trillion worth of value in the first half of the year. This will lead to a negative 'wealth effect'. Layoffs will also increase in the months ahead as the economy enters a recession. Consumer sentiment, which is already at historical lows, will fall further.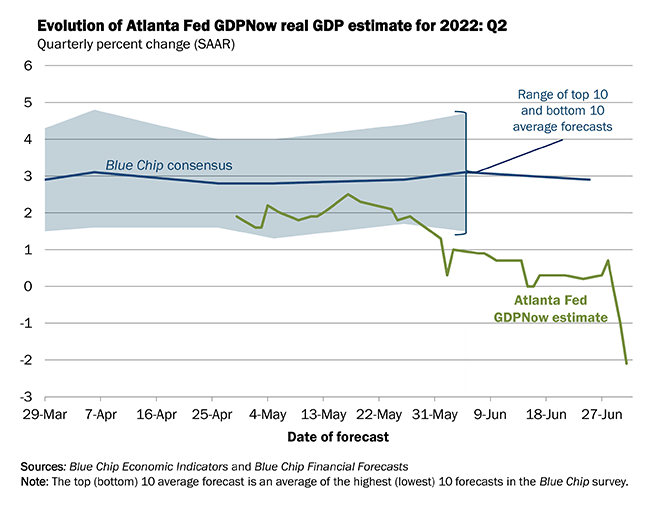 With the consumer making up nearly 70% of the economy, it is easy to see why economic projections keep getting revised down. The Atlanta Fed's GDPNow just radically reduced its projection of second quarter GDP growth to a negative 2.1%. If this forecast is even close to correct, the nation is already in a technical recession after the negative 1.6% performance in the first quarter of this year, which the 'experts' attributed to 'temporary adjustments'. Sound familiar? Acknowledgement that the country is in recession will be a consistent theme this summer.
Energy Sector Ends Its Outperformance:
Energy was one of the few bright spots in the market during first half of the year. The Energy Select Sector SPDR ETF (XLE) rose nearly 25% even as most of the rest of the equity universe was cratering. The sector benefited from soaring prices for crude oil and natural gas. This the partially driven by the war in Ukraine and western sanctions on Russian energy exports.
These policies, unfortunately but predictably, have not worked as designed. Russian is raking in record proceeds on the back of soaring energy prices and the Ruble is at multi-year highs and is currently the best performing currency in the world. Meanwhile, the western consumer has had to deal with record gas prices. Europe is particularly vulnerable to any sort of natural gas flow stoppage as we get to winter.
There was piece on Seeking Alpha this weekend stating how JP Morgan thought oil could soar to as high as $380 a barrel in a worse case scenario where Russia cut its output by five million barrels a day. However, historically the cure for high oil prices is high oil prices. Oil spiked to over $145 a barrel in 2008, before going into a massive free fall as the western economies went into a deep recession thanks to the financial crisis. With recession looming here and in Europe, energy prices seem destine to go lower by the end of 2022. This is already starting to be reflected in the steep sell-off in the energy sector over the past couple of weeks. I look for the energy sector to underperform the overall market in the second half of 2022.
Healthcare Sector Will Be A Winner:
Investors are already gravitating to the 'defensive' sectors of the market as economic activity continue to decline. One of these is the healthcare sector whose revenues will hold up much better than most industries in a recession scenario.
Recession or no recession, people still need to get their prescriptions filled, undergo chemo treatments and have necessary surgeries. I have recently established covered call positions on big drug names like Merck (MRK), Gilead Sciences (GILD) and Pfizer (PFE) as I build up exposure to this part of the market. All three names are reasonably valued, pay nice dividends and have liquid options available against their equities.
Biotech also appears to have bottomed recently after an approximate 60% decline since the beginning of 2021. With hundreds of small biotech names selling at or near the net cash on their balance sheets, it was hard for the sector to go even lower. There was also long term technical support developing. Given valuations and the large cash hoards at Big Pharma, I would expect M&A activity to pick up in the second half of this year as well.
I don't think the second half of 2022 will be nearly as bad as the first half for investors. Barring a deep recession and/or a major escalation in the Ukraine War, of course That said, I don't believe the markets have hit bottom yet either. Falling economic activity and soaring input prices will have a significantly negative impact on profit margins. I expect second quarter earnings season to be one where guidance gets lowered across most sectors of the market as well as reflected in downwardly revised profit projections by analyst firms.
Therefore, my cash allocation is near 25% and I continue to use simple covered call strategies across the majority of the holdings in my portfolio for additional downside risk mitigation.
And those are some thoughts as trading gets underway in the second half of what has been a brutal year for investors to this point.
"Any order is a balancing act of extreme precariousness." ― Walter Benjamin