6 Savings Opportunities You May Have Overlooked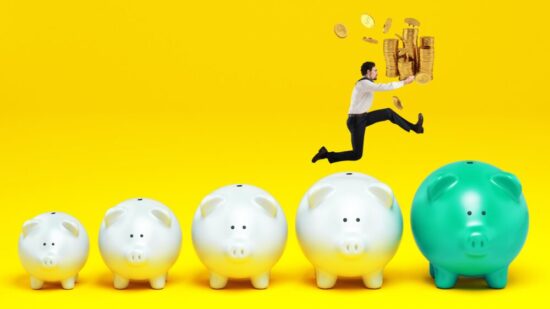 Finding ways to save money is a common priority. While many people are great at snagging some savings opportunities, there is a slew of options that often go unnoticed. As a result, you may not be seizing every chance to keep more money in the bank. If you want more of your cash to stay in your account, here are six savings opportunities you may have overlooked.
6 Savings Opportunities You May Have Overlooked
Use Cash, and Stash the Change
Using cash is one of the easiest ways to stay on budget. Plus, the psychological impact of spending actual money can make you less prone to splurges, as it feels more "real" than using a card. At some places – particularly gas stations that have separate prices for using a card – it even results in direct savings.
After buying items with cash, take any change and stash it. You can start by simply putting it in a jar. Then, once you have built up a bit, take it to the bank and put it in a savings account.
This approach is a reasonably painless way to build up your savings. It's an excellent choice if you don't currently have an emergency fund, as setting the change aside doesn't usually feel like a sacrifice. But it can also add up quickly, which is why it's such a great option.
Rethink Your Bank
Once you set up a bank account, it's normal not to give it another thought. The issue is that not all banks are created equal. Interest rates on savings and checking accounts can vary. Additionally, fee structures aren't universal.
Check your account to see if you're paying any service fees. Look at the network charges, as well as any overdraft fees. If you're paying any of those costs, it's time to look for another bank. There are a surprising number of fee-free options, some of which also pay interest on savings and checking accounts. So, make the switch if your bank is costing you more than it's giving you.
Buy Discounted Gift Cards to Handle Shopping
Discounted gift cards are most commonly available during the holiday season, though you can often find them all year round. In some cases, they'll come in the form of packs. For example, a pack may feature three $25 gift cards plus a $10 bonus card for just $75, giving you $85 of value.
Rewards options through a grocery store loyalty program are also common. With these, you may earn points that you can turn into savings on your next trip to the grocery store. That results in a savings overall.
Some rebate apps also let you buy gift cards for less. With these, you may need to use the rebate app when you shop to use the gift card, but that's usually a simple process.
There are also websites that let you buy gift cards at a discounted rate. Usually, these platforms collect gift cards from sellers, paying less than the full value of the card. Then, the sites resell the gift cards to buyers for less than face value.
This approach can work incredibly well if you focus on gift cards for stores you would shop at anyway. For example, if you get discounted gift cards for your preferred grocery store, gas station, or similar retailers, you can get what you need for less. It can also be a smart choice for purchasing cards to give as gifts for special occasions.
Just make sure you resist the urge to purchase gift cards that are solely splurges unless the occasional nicety is part of your budget. Remember, no discount is genuinely a savings unless it's a purchase you were going to make, regardless of whether you had the gift card. Make sure the gift card falls in that category, and if it doesn't, don't buy it.
Reduce Heating Bills with Electric Blankets
When the weather turns cold, it's common to crank up the heat in your home to stay comfortable. However, running your heater can do a number on your gas or electric bill, which can make it incredibly cumbersome to fit into your budget.
If you want to stay warm and cozy without cranking up the heat, get electric blankets. You can find great electric blankets that are reasonably affordable, including versions with multiple heat settings and adjustable automatic shutoff timers.
Compared to running your heater, electric blankets are highly cost-efficient. Plus, they're portable, so you can move them as you change rooms. You can plug one in near your couch for cozy television viewing, bring it to your office chair if you're working from home, and then use it to heat your bed when it's time to go to sleep.
Just make sure you only go this route if you're willing to turn your home heater down. Otherwise, an electric blanket is an additional cost on top of your usual heating. The point is to use the electric blanket to decrease your reliance on your home heating, letting you keep it at a lower temperature while still staying comfortable.
Additionally, choose a low-wattage electric blanket to maximize your savings. Choosing a 100-watt blanket instead of a 400-watt version makes a difference, especially if you're using the blanket regularly throughout the winter.
Grocery Shop Online
Most major grocery stores give you the ability to place an order for pickup for free. While this might not seem like a money-saving opportunity, it can be in many ways.
First, you can connect your online grocery shopping account to rebate apps like Ibotta, making it easy to find qualifying options that result in cashback. Plus, your cashback is calculated for you without having to take pictures of receipts or scan product barcodes.
Second, shopping online may help you avoid impulse purchases. While the main page of the shopping app typically advertises a range of items, you see focused results once you start looking for specific products. That can reduce your number of spontaneous purchases.
Plus, when you shop online, you aren't walking by products you don't actually need. Again, that can make unplanned purchases less likely, which can result in a savings.
You may also have an easier time comparison shopping between different brands online. Many grocery apps clearly display the product price and the cost per unit. With the cost per unit, you can quickly see which option is genuinely the best deal. Just be aware that the cost per unit won't account for any rebates you're getting through other apps, so you may need to do the math yourself in that situation.
Signing Up for an HSA
If you're eligible for a health savings account (HSA), not signing up can cost you. An employer-sponsored HSA lets you take pre-tax money directly from your paycheck and set it aside for future qualifying health-related expenses. If you set up an HSA on your own, then you're typically eligible for a tax deduction to offset the contributions.
As with many tax-advantaged accounts, there are annual contribution limits. For 2022, it's set at $3,650 if you have self-coverage or $7,300 for family coverage. In 2023, the self-coverage limit rises to $3,850, and family coverage goes up to $7,750.
The benefits of an HSA are notable. Any growth is also tax-free, and you get to decide how that money is invested. When you use the funds to pay for qualifying healthcare expenses, those withdrawals are also tax-free, regardless of your age.
Unlike an FSA, funds in an HSA rollover. That lets you grow your balance over time, giving you more money to pay for medical expenses later in life, which is when healthcare costs typically rise.
Plus, if you have money available when you turn 65, you can withdraw it for any purpose (not just for healthcare expenses) without owing taxes. As a result, it can supplement your other retirement savings, which is a nice bonus.
Can you think of any other savings opportunities that people commonly overlook? Did you manage to harness the savings opportunities above and want to tell others about your experience? Do you think other savings options are better choices than those above? Share your thoughts in the comments below.
Read More:
Come back to what you love! Dollardig.com is the most reliable cash back site on the web. Just sign up, click, shop and get full cash back!