7 Must-Have Furniture Items In A Living Room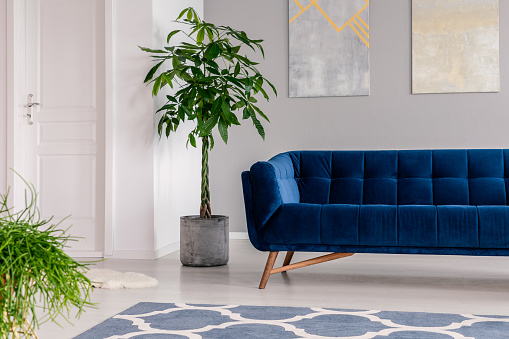 A living room is where you spend the maximum amount of time eating, hosting, entertaining and bonding as a family. A living room must embody comfort, functionality and a reflection of your style. At the same time, it is important to ensure a living room is not very cluttered with unnecessary furniture and fixtures. If you're wondering what the requisites are to fashion a minimalistic living room, we have good news for you – you can very well give your living room a makeover on a budget! Just stick to the basics – here are 7 must-have pieces of furniture for a complete living room.
Coffee Tables
Coffee tables are central to your living room not only in terms of location but also visual attention. Modern stone-finish coffee tables with a contemporary look have been doing the rounds in the latest interior design projects. Choose a coffee table that can be expanded or retracted in case you plan on hosting guests often. Coffee tables can also sport storage on the lower rung for tissue boxes, newspapers, water bottles and more. If you are falling short of space in your living room, you could also consider investing in ottoman tables that double up as seating space when you need it.
Accent Chairs
Accent chairs are an absolute ode to stylish interior design. These multi-faceted chairs are much more than statement pieces of furniture and can redefine the décor of your living room. From angular designs, bold colours and unmatchable comfort, accent chairs are all about modish. There are several types of accent chairs that you can choose from such as the classic chesterfield, the versatile roundabout chair, the comfortable Papasan chair or the grand wingback chair. Bring home an accent chair to add character and elegance to your living room.
Couch
No living room is complete with a cosy and comfortable couch. When it comes to buying a couch, make sure you don't count your pennies. Go all out in buying a couch that is stylish, comfortable and durable, even if you need to shell out some extra dough for it. After all, it is the spot where you spend the maximum amount of time! A good couch adds that much more zing to your Sunday downtime, Friday movies night or just everyday comfort. Choose a couch in a dark colour if you have pets and children at home to prevent stains and premature discolouration.
TV Cabinet
A TV cabinet is a fixture that grabs maximum eyeballs in your living room, so why not make it worthwhile? Modern TV cabinets give your living room a much-needed facelift. Contemporary living room TV cabinets with a glossy polyurethane finish area sure-shot hit in all homes aiming for modern décor. Soft closing drawers with opaque shutters offer plenty of space to store gadgets, appliances, wires, remote controls, chargers and more. Storage space is important in TV cabinets to ensure there is no clutter around the space. Make sure you choose a TV cabinet that can meet all these needs.
Side Tables
Practicality is an essential element in the living room to ensure comfort. When you are deciding on the placement of the furniture in your living room, earmark the space next to your couch for side tables. They come in handy to place coasters, books, plates and other items that would otherwise find their way to your couch, making it cluttered and stained in no time. Side tables also allow for downtime, ensuring you don't have to get up from the couch at times when you don't want to. Invest in small and artsy side tables that suit the décor theme of your home.
Shelving Unit
An elegant shelving unit is a must-have in every living room. Use it to keep your dinnerware, books, trophies, artefacts, work essentials and other possessions. There are several options in shelving units that you can play with on a basis of your floor space and décor theme. It is a great way to remove clutter from your home and have organized storage space. Shelving units also add character to a living room and make it more personalized. Display merits earned by your children or old family photographs to have intriguing conversation starters in your living room that catch the fancy of guests.
Bar Trolley
Why suffer with sloppy bar arrangements and awkward spills when you can invest in a sleek bar trolley? Push trolleys have been around for eternity, never losing their charm and functionality. These trolleys have dedicated slots for wine glasses, whiskey glasses, bottles, bar accessories, ice boxes and more. It is an investment if you do not have a home bar or a dedicated dining area for hosting guests. Bar trolleys also add a touch of elegance and sophistication to your living, making them a must-have accessory if you enjoy playing host.
Wrap Up
We hope you know just what to furnish your living room with after reading this article.