Convey Health Stock: An Almost Certain Deal Close (NYSE:CNVY)

Convey Health Solutions (NYSE:CNVY) recently announced entering into a definitive agreement with PE firm TPG Capital, the 75% owner of CNVY, in an all-cash deal for all outstanding shares. Given the history between both entities (TPG is still the majority owner and last took CNVY to market in 2021), I see limited risk to the transaction closing. Plus, TPG's offer entails a massive >140% premium to the pre-announcement price and comes at a time when the stock price has underwhelmed amid rising interest rates. That said, CNVY has executed well in recent quarters despite labor and supply chain headwinds, and given the purchase price still assumes a reasonable ~12x fwd EV/EBITDA multiple including the offer premium, I am not surprised that TPG sees value in the stock. While the stock is already at $10.41, the high certainty of a deal close and the free optionality from a potential competing bid down the line means this is still a "merger arbitrage" opportunity worth considering.
TPG-Convey Health in Boomerang Take-Private Deal
Following its post-IPO stock price underperformance, TPG Capital, CNVY's majority shareholder, will be taking the company private and acquiring all outstanding shares in an all-cash deal. Per the disclosed deal terms, existing CNVY shareholders will receive $10.50/share in cash, implying an enterprise value of ~$1.1bn or ~ 2x fwd revenues and 12x fwd EV/EBITDA. In turn, the offer price equates to a hefty premium of >140% to Convey's pre-announcement closing price and an ~100% premium to the 30-day volume-weighted average price (VWAP). Of note, the offer comes a year after TPG first took Convey public for an EV of ~$1.5bn through an IPO in June 2021 at a price of $14/share. At the time of IPO, CNVY stock commanded an ~15x EV/ EBITDA – a steep premium to its ~7x EV/EBITDA multiple pre-announcement and the ~12x fwd EV/EBITDA implied by the offer price.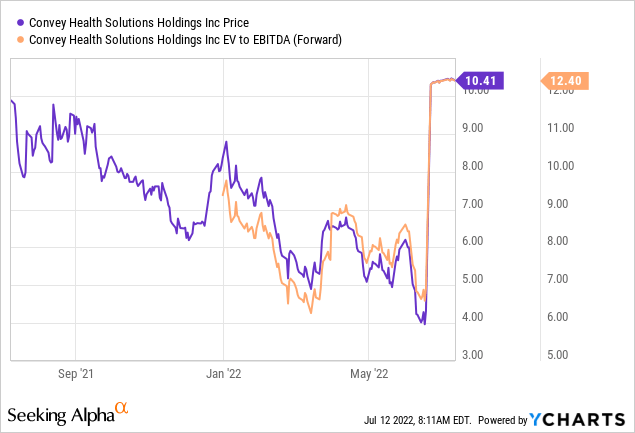 As disclosed in the 8-K filing released with the deal announcement, the acquisition will be subject to a breakup fee if either party terminates the transaction. Alternatively, either party reserves the right to terminate the transaction by December 20, 2022, if the deal does not close. While management did not hold a conference call or provide further color on the deal, the press release did note the potential transaction benefit of reinvesting in the business and better servicing customers as a private company without quarterly reporting obligations. Going private will not be new for CNVY – the company has long been fully controlled by its financial sponsor TPG, which continued to hold ~75% of the common stock post-IPO. Given its status as a majority shareholder, TPG's approval is all that is required for the transaction (i.e., no other shareholder approval is required). Barring any regulatory hurdles, the deal should close as expected in the back half of this year.
Take-Private Rationale Makes Sense Amid Recent Underperformance
CNVY's growing cash position, as well as its underwhelming stock performance since its IPO, makes TPG's decision to take the company private quite sensible, in my view. Plus, the offer price still comes at a ~25% discount to the ~$14 IPO price, so TPG should have no issues funding the deal. Operationally, CNVY hasn't done much wrong – the company's execution against its operational and financial targets has been solid, consistently outpacing consensus revenue and EBITDA estimates in the four quarters post-IPO. To be fair, there have been some minor headwinds, including related integration and transaction expenses from the HealthSmart transaction. Like its peers, CNVY has also suffered from wage and supply chain pressures in recent quarters. Still, management's full-year revenue and EBITDA guidance remain intact, as the headwinds look to be manageable and no external funding will be required.
In addition to compressing asset valuations in recent months (mainly due to the rate hikes), a major contributor to the underperformance may well be investor (mis-)perception of the company. In contrast with pure-play SaaS companies, CNVY is "tech-enabled" and thus, depends on labor to realize the value proposition of its tech offerings, resulting in lower margins. Another key headwind has been Medicare Advantage (a key focus area for CNVY), as reports of clients experiencing elevated COVID-related costs and softer enrolment trends during the most recent annual enrolment period have weighed on investor sentiment. Yet, the secular growth trend remains intact as its expanding recurring revenue base, and potential margin benefits (mainly labor and inventory) from HealthSmart kick in.
An Almost Certain Deal Close
Net, all signs point to CNVY going private in the coming months – TPG's majority ownership (~75% of the shares) and prior relationship with the company pre-IPO mean both sides know each other well. The implied ~12x fwd EBITDA multiple of the take-private price isn't lofty either, while TPG's multi-year relationship with CNVY significantly limits the due diligence risk. The stock trades at $10.41 at the time of writing, so the market has largely priced in a high probability of a deal close. This still leaves an ~2% annualized return as well as a free (albeit unlikely) option that another buyer comes in with a competing bid, so the low-risk CNVY merger arb opportunity may still be worth a look – particularly in a rising rate backdrop.