Counterpoint: TSMC controlled 70% of the Q1 chipset shipments
Taiwan Semiconductor Manufacturing Company (TSMC) was the leading global semiconductor manufacturer for the January – March period according to Counterpoint Research's latest report. TSMC reportedly controlled 70% of the application processor (AP), system-on-chip (SoC) and cellular modems going into smartphone chipsets. Samsung Foundry came in second place with a 30% market share.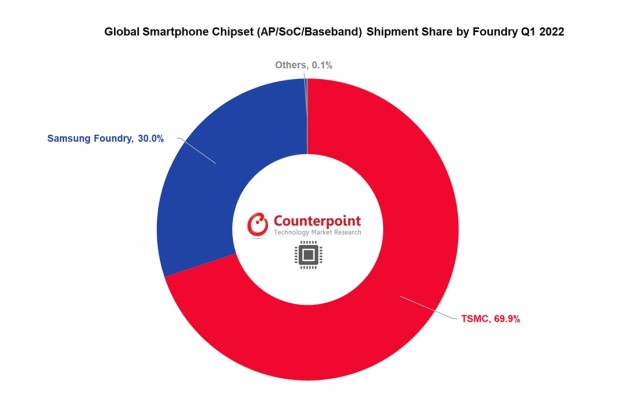 Global smartphone chipset shipments share by foundry (Q1 2022)
The global smartphone chipset market saw a 5% shipment decline compared to Q1 2021 though revenues for the same period were 23% higher this time around. Interestingly enough TSMC-sourced chipsets declined by 9% on a yearly basis. Samsung did hold the upper hand in terms of smartphone chipset node share for Q1 2022 at 60% driven in large by Qualcomm's Snapdragon 8 Gen 1.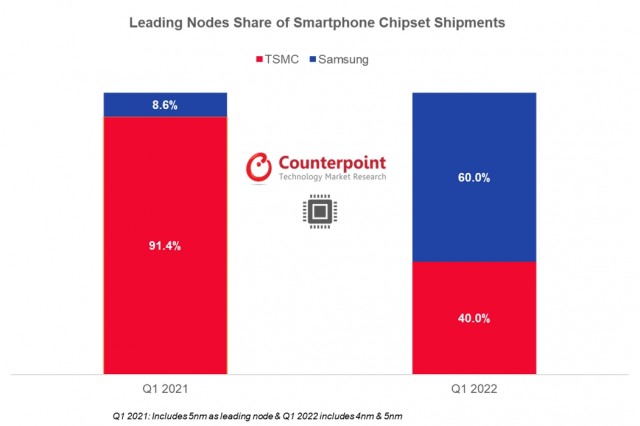 Leading smartphone chipsets nodes share (Q1 2021 vs Q1 2022)
TSMC is expected to dominate the rest of the year with its 4nm node being used in the Snapdragon 8+ Gen 1 SoC. Qualcomm, MediaTek and Apple are all expected to use TSMC's 4nm process node.