DavidsTea Stock: Key Metrics Move In The Wrong Direction (NASDAQ:DTEA)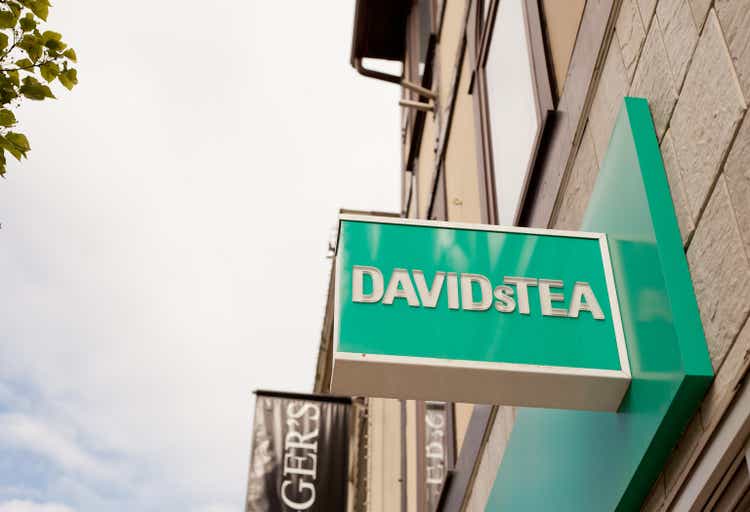 Two years ago, COVID-19 forced leading Canada-based tea retailer and merchant DavidsTea (DTEA) to commence restructuring proceedings under the Canadian Companies' Creditors Arrangement Act ("CCAA"), the Canadian equivalent of Chapter 11.
Subsequently, DavidsTea terminated the vast majority of its brick-and-mortar store leases to focus on its e-commerce and wholesale operations.
While the transformation appeared to shape up well initially, results have deteriorated quite meaningfully in recent quarters as the company struggles with post-COVID customer buying patterns.
For me, the appointment of co-founder and controlling shareholder Herschel Segal's daughter as CEO in December 2020 was a major red flag due to her obvious lack of qualification.
In addition, the move made quite clear that the Segal family wasn't considering to put the company on the auction block anytime soon.
In FY2021, sales declined by approximately 15% year-over-year while Adjusted EBITDA was almost cut in half to a paltry C$5.3 million.
Cash declined by C$5.1 million to C$25.1 million.
Q1/FY2022 was more of the same with sales declining and SG&A expenses increasing on a year-over-year basis for the fourth quarter in a row.
While the company intends to "continue investing in initiatives that stimulate demand", a turnaround of recent sales trends looks illusive at this point, particularly given the magnitude of challenges the company is currently facing:
inflationary pressures
supply-chain disruptions
labour shortages and rising salaries
COVID-19 related e-commerce tailwinds anticipated to subside even further
a looming recession
Given these headwinds, management's long-term goals of low double-digit sales growth and 10% Adjusted EBITDA margin (up from 5% in FY2021) will be difficult to achieve:
Bottom Line
Suffice to say, DavidsTea's transformation to a "digital first tea merchant" hasn't played out as expected so far with both sales and profitability on the decline for four straight quarters in a row now.
With the company facing a number of industry-specific and macro-related headwinds, management's long-term growth targets look illusive at this point.
At least in my opinion, the Segal family should consider putting the company up for sale instead of watching sales and profitability deteriorating further in an increasingly difficult market environment.
Unfortunately, I do not expect this to be the case anytime soon.
Given the issues discussed above, investors should avoid the shares or even consider selling existing positions.