Devon Energy Stock Is A Strong Buy On Recent Weakness (NYSE:DVN)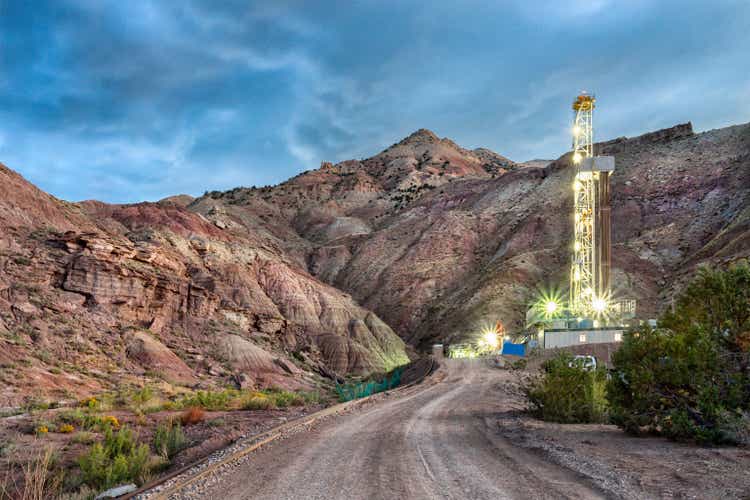 Devon Energy (NYSE:DVN) is a hydrocarbon focused energy company with an almost $40 billion market capitalization. The company has seen its share price drop roughly 30% month to month. The recent weakness, combined with the company's strong cash flow generation and dividend policy, help to make the company a valuable investment.
Devon Energy Williston Acquisition
Devon Energy has recently made a bolt-on Williston acquisition, an impressive acquisition that will enable continued asset growth for the company.
Acquisition Details – Devon Energy Investor Presentation
The $685 million acquisition provides the company with 38 thousand net acres with an 88% working interest providing >100 highly economic locations. Roughly 15 of those wells will come online in 2022e at a 78% oil mix. The acreage has incredibly strong synergies with the company's existing acreage minimizing the costs of incorporating it.
The acquisition adds 15 thousand barrels / day of production, adding production at a cost of ~$47,000 / barrel per day. That's an acquisition that'll pay itself off after just a few years. The FCF yield is >25%, with a mid-single digit in per share earnings growth, and a 2.2x cash flow yield for the company. The acquisition multiples are exceedingly great at a good time.
Devon Energy Business Model
Devon Energy has a business model that'll enable continued strong shareholder returns.
Devon Energy Business Model – Devon Energy Investor Presentation
The company has more than 500 thousand barrels / day of production across numerous basins. The largest by far is in the Delaware Basin. The company has multiple decades of assets and 50% oil volumes with 26% gas volumes and 24% NGL volumes. The Delaware Basin will continue to be one of the premier oil basins worldwide.
The company is planning to spend roughly $2.05 billion in capital throughout 2022, with 585 thousand barrels / day in production at the midpoint. This means roughly $9.6 / barrel in capital spending for the company's production, an incredibly manageable cost. At $110 / barrel WTI, the company expects almost $7 billion in FCF. That represents a ~18% FCF yield.
Devon Energy Financial Improvement Potential
This FCF yield will lead to improving financials for the company and strong shareholder returns.
Devon Energy Dividend Payout – Devon Energy Investor Presentation
Devon Energy has 29 consecutive years of dividend payments and is utilizing a new variable dividend payment policy. The company's fixed dividend is roughly 1.2%, however, with the company's variable dividend policy, that could become roughly 8.5%. That dividend yield alone helps highlight the company as a valuable investment.
Past this, the company also has a $2 billion share repurchase program, enough to repurchase more than 5% of its outstanding shares. It's used almost half of this at roughly $47 / share. The company's year-end 2022 debt is expected to be 0.2x to the company's EBITDAX, and the company has new opportunities to reduce debt saving on interest expenses.
Our View
Devon Energy is generating massive cash flow and taking advantage of that on all fronts. The company is investing significantly with more than $2 billion in capital spending, as the company's production has grown YoY. The company also has a 10+ year portfolio of drilling that will enable continued growth for the company.
The company has a variable dividend that will enable the company to pay out an almost 9% yield for 2022. The company expects to have net debt of less than $1.5 billion by YE 2022 with an incredibly strong financial position, while continuing to repurchase shares opportunistically. However the company spends money, we expect incredibly strong shareholder returns.
The company's FCF will enable almost $4 billion FCF after the variable dividend policy. Regardless of how the company utilizes this we expect strong returns, especially into 2023 as the company's debt is nearly completely paid down. The recent weakness represents a unique investment opportunity, and as a result, we recommend investing in Devon Energy at this time.
Thesis Risk
As seen above, with the company's recent price decline, the company has an almost 20% yield at the price of $110 WTI, giving it substantial room to handle a decline in oil prices. Still oil prices have gone negative before, so it's definitely worth highlighting sustained lower prices as a risk to the company's operations. Similarly, local gasoline demand could decrease, increasing, at a minimum, reliance on transportation infrastructure and costs.
We feel that both of these risks still result in an undervalued company at current prices, but the oil markets are dynamic, and things could change.
Conclusion
Devon Energy has a unique portfolio of assets, with an incredibly opportunistic and well timed acquisition. The company's capital spending is enabling growing production with a cost per barrel of less than $10. The company has a multi-decade portfolio of inventory that it is continuously expanding, which will enable reliable and growing production here.
Outside of this, the company is directing its cash flow through a variety of paths to shareholder returns. The company is paying a more than 8% dividend yield. By year-end its debt to EBITDAX will be a mere 0.2x with room to decrease further. The company has expanded its share buyback program and we'd like to see more expansion here to generate strong returns.