DICK'S Sporting Goods: Fast Expansion With Weaker Cash Flow (NYSE:DKS)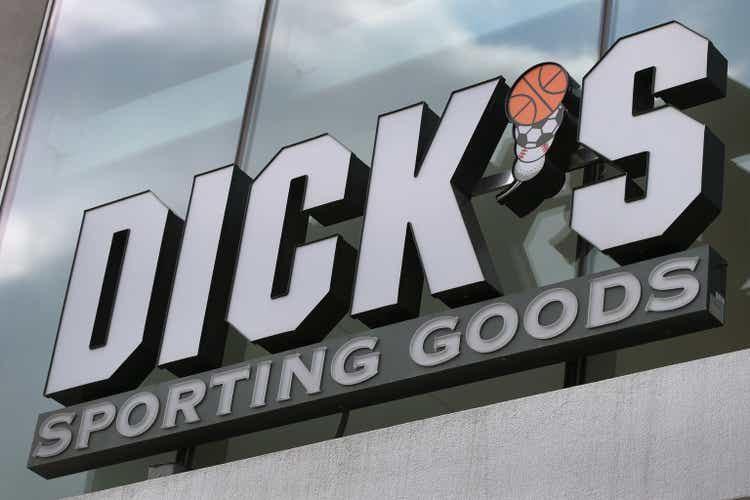 Investment Thesis
DICK'S Sporting Goods (NYSE:DKS) has had strong growth and large expansion in the past three years. Although its sales and growth continue to be strong, we see weakness in its cash flow with a high level of long-term debt that needs more attention. We favor the company's sales strategy and are optimistic about its growth but think the market has priced in too high of expectations. The current price is above our fair valuation.
Company Overview
DICK'S Sporting Goods, Inc., headquartered in Coraopolis, Pennsylvania, was founded and incorporated in 1948 in Binghamton, New York, under the name Dick's Clothing and Sporting Goods, Inc, and later changed to DICK's Sporting Goods. The company carries a full range of products within each category but focuses on athletic apparel, fitness, footwear, golf, and team sports as growth categories. Its attributable sales segments are hardlines, apparel/softness, and footwear.
Strength
Dick's utilizes an omni-channel sales strategy with stores and e-commerce that offer a full range of product sales that has both national and vertical brands. The national brands include Nike (NKE), adidas (OTCQX:ADDYY), Brooks, Columbia (COLM), The North Face, Under Armour (UA) (UAA), etc., while the vertical brands are those owned by the company and available exclusively in its stores, as well as brands it licenses from third parties. The sales breakdown from this strategy shows that hardlines, e-commerce, and national brands count as the core of its sales volume.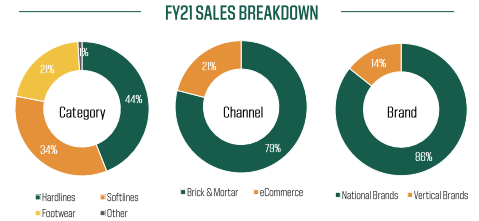 While among the national brands, Nike is Dick's largest vendor, accounting for 17% of all Dick's merchandise purchases. Not only this, the company continues deepening its partnership with Nike with its scorecard membership and also shares the benefits of Nike's products. We will come back to this relationship later.
One of the fastest growth of Dick's is its youth team sports. The company teamed up with app provider "Gamechanger" to serve the teams' scheduling, communications, and video streaming. It also builds relationships with the local community by sponsoring teams and providing exclusive sales deals. Dick's has the largest database of youth sports in the country. It is indeed "investing in the future" as these young athletes could become loyal customers when they grow up.
The results of the company's digital push in sales and loyalty programs are evident. It not only has the largest database in youth sports but also has a 150 million+ strong total athletes record from its ScoreCard programs.
The company also implemented an omni-channel sales concept called Public Lands that serves outdoor athletes with experiential elements of a climbing wall on site. This retail concept could help expand its leading sales segment, the hardlines, as it provides a lot of equipment services, including bike, paddle, and camp. Outdoor sports were generally lackluster before the pandemic, but the landscape is greatly changed. Outdoor activities engagement had the biggest participation rate in 2021, and the trend is expected to stay. These efforts could actively capture that growth in trends.
Indeed, due to the change in consumer behavior, Dick's had a quick and strong rise from the initial dip at the beginning of the pandemic and rose to its strongest revenue level in history, and it's still staying strong on a TTM basis.
To look at the profits, the company's gross margin, net margin, and EBITDA margin are still staying above the pre-pandemic level as well; only its free cash flow margin has turned back down to the historical lows.
Weakness/Risks
If we take a look at its free cash flow, it has turned weak for a few quarters now.
In fact, in the latest quarter, all three components of its cash flow have turned negative, with financing accounting for the largest drag.
The company's operating working capital with and without inventory has the widest divergence on record.
It is mostly because inventory is rising, but also note the widest difference between account payables vs. receivables.
In the meantime, the operating expenses as a percentage of earnings from the operation have dropped back to close to pre-pandemic levels.
And although it is not an immediate concern, the company's long-term liabilities are on their way to being at par with its long-term assets for the first time in a long time.
This is mostly due to the significant jump in the past few years, as the company went on an expansion spree. Although the company mentioned paying down the convertible senior notes with excess cash in its forward-looking statements, most of its long-term debts are in its operating lease liabilities. All of the company's stores are leased, and the number of stores jumped by almost 40% in 2021.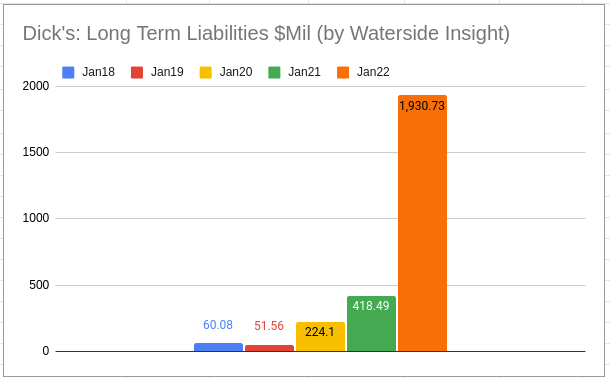 Financial Overview
Valuation
Within the past five years, Dick's price movements used to slightly underperform but track closely with Nike, which is its largest vendor, as we alluded to earlier. The gap has been widening since mid-2021. Currently, they have their largest difference in the last five years.
Without delving into Nike's valuation, we want to see if Dick's premium can be justified by assessing its fair valuation considering all our analysis above. We take account of all our analysis above and use our proprietary models to project ten years ahead to evaluate. In our bullish case, Q4 of last year is going to be worse than Q4 of 2021, while 2023 is also projected to be weaker YoY; it stages a rebound later on and maintains a stronger cash flow compared to the past ten years; in this scenario, it was valued at $83.94. In our bearish case, the resumed growth in cash flow after the recent slowdown was less than robust as the company deals with higher debt levels and more normalization in consumer spending; it was valued at $54.7. In our base case, we still factor in a slower 2023 growth in cash flow but a strong rebound similar to the bullish case; it was valued at $71.57. The current price is much higher than our top estimates.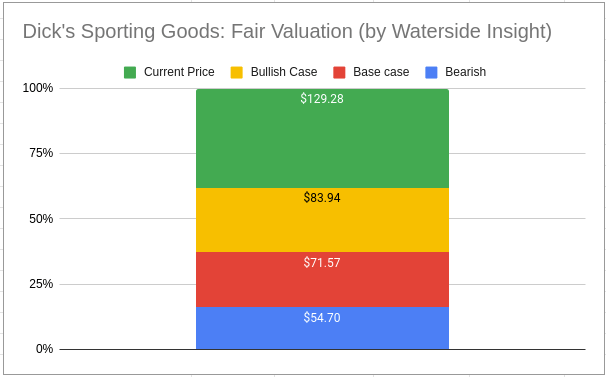 Conclusion
In addition to selling sports products that meet changing consumer lifestyles, DICK'S Sporting Goods has also been deeply rooted in the communities it serves, especially in youth sports, an American favorite. We are happy to see that the company has grown both the top line and bottom line significantly in recent years. However, the company is skirting some cash flow and cash conversion cycle weaknesses. DICK'S Sporting Goods' expansion since 2020 has resulted in the company's liabilities rising to the point that it might need to develop more detailed plans to reduce them over the next few years. The current price is too high for our fair valuation. We recommend selling at the current level and look for a better valuation to participate in.