Dorian LPG Stock: The Rewards Outweigh The Risks (NYSE:LPG)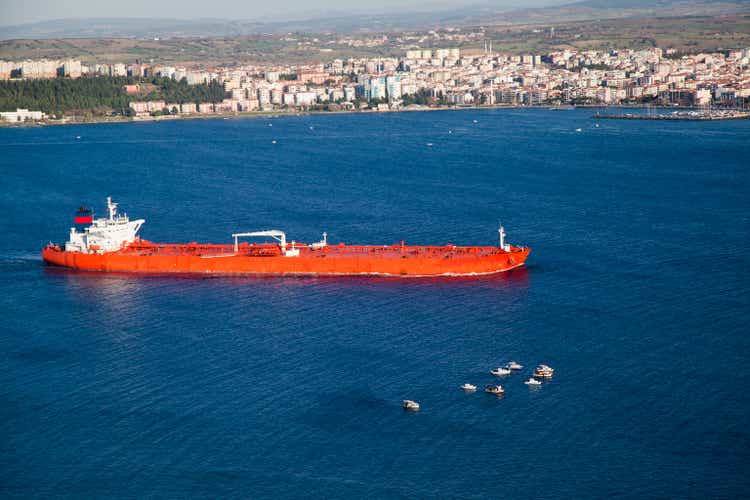 Investment Thesis
Dorian LPG Limited (NYSE:LPG) has outperformed the market in the previous 1, 3, and 5 years with an almost 18% gain YTD against the S&P 500's loss of almost 20%. However, it has lost about 17% since the start of June, compared to a loss of almost 7% of the S&P 500.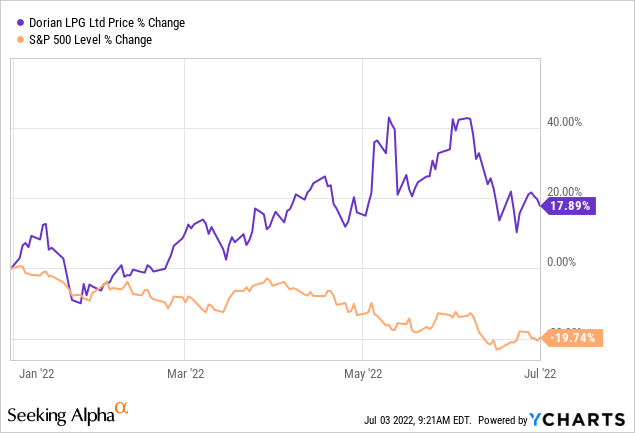 My previous article covers the LPG market from the perspective of smaller LPG carriers but does not discuss the role of Very Large Gas Carriers (VLGCs) as I intended to expand on it here in the context of Dorian, which entirely operates in the VLGC market.
The market is riddled with volatility because of geopolitical and systemic risks. However, it has gained ample momentum in Q2 to expect positive results in the upcoming financial reports, which will reflect positively on the share price. The long-term prognosis also remains positive as LPG deepens its foothold in the world, and the VLGC sector remains essential in the LPG supply chain.
I am bullish on the stock because of its upside potential driven by a bullish market outlook, attractive valuation, and promising foreseeable financial results.
Company Overview
Dorian owns and operates 22 VLGCs, including 19 new fuel-efficient 84,000 cbm ECO VLGCs, 1 82,000 cbm VLGC, and 2 time-chartered-in VLGCs. Excluding the 2 time-chartered-in vessels, its fleet has a total carrying capacity of almost 1.7 million cbm and an average age of 7.5 years. The company provides in-house commercial and technical management services for its entire fleet, excluding the time-chartered-in vessels.
Dorian also owns 50% of Helios LPG Pool LLC as part of a joint venture with Phoenix Tankers Pte. Ltd, for better market coverage and utilization of its fleet. Both entities share the net pool revenues, weighted according to certain technical vessel characteristics, and distribute them as variable-rate time-charter-hire to each participant. The Pool operates 20 vessels from Dorian's fleet and 2 from Phoenix.
High Bunker Prices Risk Straining Revenues
Dorian's revenue of $79.6 million for the MRQ decreased 20.1% YoY due to a reduction in average realized TCE rates from $49,474 to $43,372 per day, reduced fleet utilization from 95.3% to 89.3%, and fewer available days from 2,091 to 2,025.
The company's TCE rate declined despite relatively high spot rates because of higher bunker prices, including an almost 60% surge in the average price of very low sulfur fuel oil from Singapore and Fujairah and over 55% YoY increase in the average benchmark marine fuel price. These prices have been especially prone to fluctuations amid the Russia-Ukraine conflict.
Even though the bunker prices have marginally eased in Q2 2022, possibly slightly improving Q2 financial performance, the high volatility is a significant concern, likely bearing down on the entire VLGC sector.
BW LPG (OTCPK:BWLLF), a world-leading VLGC owner and operator, has warned that these prices, geopolitical tensions, changing trade patterns, unexpected LPG inventory, and changes to shipping inefficiencies, such as the reduction in vessel speed and potential scrapping driven by tightening emission controls, are likely to cause a short-term VLGC rate volatility.
BW remains optimistic about the sector's longer-term prospects based on energy price hikes and export growth expectations led by a positive market sentiment regarding LPG as a transitional fuel.
Large Influx of New VLGCs
Another concern in the LPG shipping market is the large influx of vessels in the coming periods, creating the threat of an oversupply with the global VLGC fleet expected to grow to 340 ships in 2022, 378 ships in 2023, and 381 ships in 2024.
Even though the freight rates appear safe because of a large number of shipping vessels scheduled for drydocking during the influx period, the risk of oversupply remains prominent, which may weigh down the TCE rates.

On the other hand, the worldwide LPG demand is expected to grow 5% in 2022 and 3% in 2023, with the EIA estimating a 6% and 15% growth in US LPG export in 2022 and 2023, respectively, exhibiting a positive long-term sector demand. Chinese LPG imports are expected to grow at a CAGR of around 10% by 2025. This will strengthen the demand for VLGCs, offsetting the influx of vessels, and counteracting against factors pulling down the TCE rates.
A Bullish VLGC Market
According to Poten & Partners, the Baltic TCE rate for the US to Chiba was higher than that of Ras Tanura to Chiba for most of Q2 2022, drawing tonnage towards the US Gulf as vessel owners and operators opted to position their cargo on the US-Far East trade route where it was more profitable compared to the Middle East-Far East trade during most of the year, exerting upwards pressure on freight rates this year because of decline in prompt availability of VLGCs in the Middle East. This healthy and favorable spread prompted robust US exports to Asia, supporting freight markets.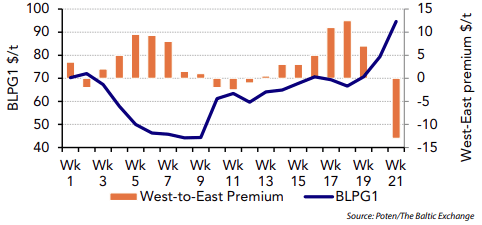 The VLGC market conditions are much more favorable in the second quarter of 2022 than in Q1 because of the higher average Baltic VLGC index and about a 5% increase in global exports. The company's previous revenue trends have closely followed the macroeconomic dips and rises, which leads me to stipulate promising quarterly results up ahead.
The consensus analyst revenue estimate for the upcoming earnings report of $79.9 million is expected to exhibit a YoY growth of almost 30%, which seems more than likely to be achieved given a 147% sequential rate improvement in the benchmark Ras Tanura to Chiba as at the end of June and an 80% increase in the US to Chiba spot rate assessment from March to May 2022.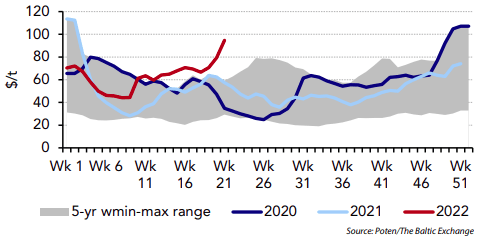 Valuation
With a price tag of almost $15, the stock is trading a little over 8 times its expected upcoming EPS of $0.66, which will be an over 4 times YoY growth. The P/E ratio is almost equivalent to the industry median, despite the phenomenal expected YoY EPS growth. This leads me to the fact that the stock is likely undervalued even though it may appear fairly valued using relative valuation metrics.

An EPS-based DCF model extrapolates a fair value of $39, more than double the current price of $15 per share, even if I plug in a conservative 10% growth rate, 2% terminal rate, 7% WACC, and $1.78 previously posted annual EPS.
This is exceptionally higher than the consensus analyst estimate of $18.5. Still, given the upward trajectory of the VLGC market, it doesn't seem too far-fetched, especially considering that the stock has already doubled in value since the post-pandemic market dip.
Conclusion
Dorian LPG may seem like a losing stock given the 20% YoY revenue decline, but that is almost entirely attributable to macroeconomic conditions and systemic risks which have affected the whole market. With improving market conditions, the company is more than likely to leverage the situation in its favor and post favorable results, resulting in a buy-off and share price hike.
Given the positive sentiment for the company's revenues, it is also pertinent to carry those figures down the line. Dorian appears to be performing well in this section with its improving profit margins, especially as it performs better than its peers and 5-year averages.
The company's balance sheet, debt, and liquidity situation are also not a concern, with an Altman Z score of almost 2, book value per share of almost $23, declining net debt, and almost 40% of its market capital available in cash.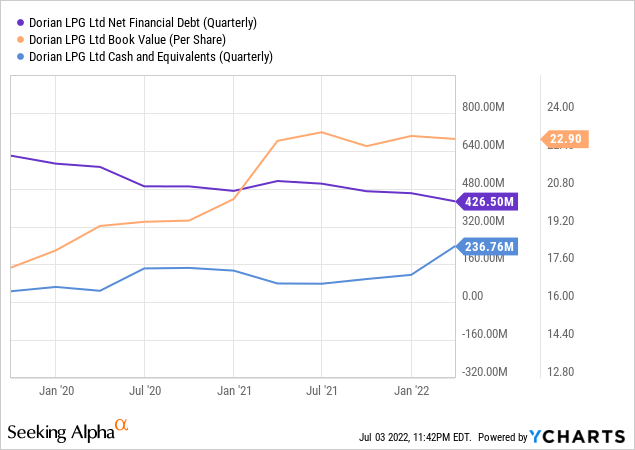 Overall, I rate the stock as a buy because of its propensity to rise with the positive market conditions in the VLGC sector.