Herbalife Stock: A Challenging Future Awaits (NYSE:HLF)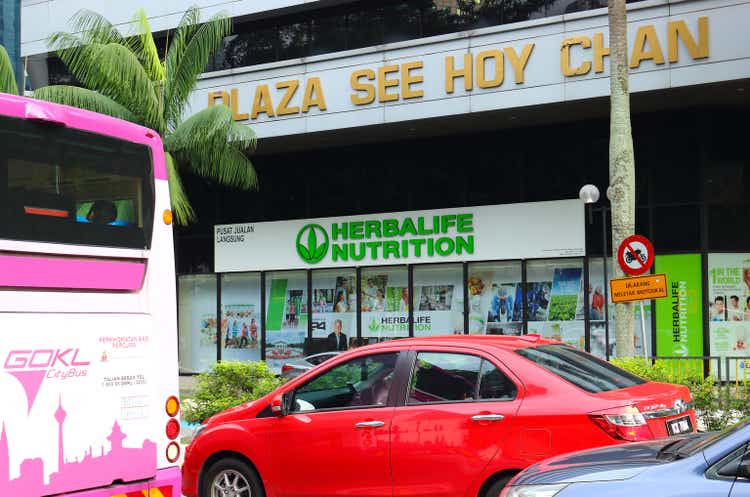 Investment Thesis
Herbalife Nutrition Ltd. (NYSE:HLF) deploys a MLM business model which was most likely the main reason for the upward momentum during the covid-pandemic. However, I believe that the same model is what could bring the company into trouble now and in the near future. Despite its very low valuation, the company is a sell for me right now.
Introducing Herbalife Nutrition
Herbalife Nutrition is a global multi-level marketing (MLM) company that creates and sells dietary supplements. Weight-loss and protein shakes are among Herbalife Nutrition's products, as are protein bars, teas, aloes, vitamins, and sports hydration, energy, and personal care products. The Formula 1 protein shake, a soy-based meal replacement shake, is the company's original product.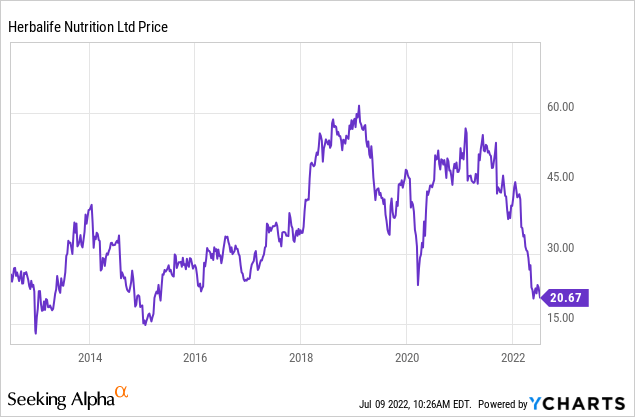 The company had its ups and downs as it was both caught in controversies as well as had its sales successes. The FTC (Federal Trade Commission) started an investigation into Herbalife as consumers and members in both houses of Congress accused the consumers of the company were duped into believing they might earn a huge income from the business opportunity or large sums of money through retail sales of the company's items. In a settlement with the FTC in July 2016, Herbalife agreed to modify its business model and pay $200 million. Furthermore, certain reports are shared around the internet which conclude that many consumers who use their products get liver injuries. On the other hand, its MLM-model seemed to attract new customers while dietary supplements gain in popularity. The stock lost 60% of its value in the last 12 months.
Relating to Herbalife Nutrition, in this article I will analyze:
Its historical performance
Factors limiting its future potential
Valuation
Potential factors resulting in a upward price movement
My overall take on Herbalife Nutrition
Historical Performance
Growth (Year-over-year)
Dec-19

Dec-20

Dec-21

Last 4

quarters

Revenue
(0.30%)
13.63%
4.71%
-5.84%
Gross profit
-5.28%
9.32%
1.06%
-8.53%
Net income
4.86%
19.81%
20.02%
-20.95%
Source: Seeking Alpha
Margins (% of revenue)
Dec-19

Dec-20

Dec-21

Last 4

quarters

Gross Profit
50.66%
48.74%
47.04%
46.33%
Net income
6.38%
6.72%
7.71%
7.06%
Free cash flow
5.09%
7.96%
3.80%
4.73%
Source: Seeking Alpha
The last few years have shown mixed results, with especially losing a decent amount of revenue in the last 4 quarters compared to the 4 quarters prior. Gross profit declined even more. It seemed that the COVID-pandemic actually benefitted the company, but is now struggling as the pandemic effects are wearing off.
In the Q1 2022 earnings call, management mainly attributes the loss in sales to:
Economic pressures from the inflationary environment and widespread geopolitical uncertainty has had an impact on our channel
However, when we look at BellRing Brands (NYSE: BRBR), another player in the nutrition market, they seem to have no issue with dropping sales numbers. On the contrary, they have been growing at an excellent rate. So inflation most likely isn't the only reason.
MLM Business Model
I think that this rise and fall in sales can potentially be attributed to the business model used. Let me explain. At the beginning of the article, I stated that Herbalife Nutrition deploys a multi-marketing scheme business model. For the ones that don't know, multi-level marketing (MLM) is a marketing strategy for the sale of goods or services in which the MLM company's revenue is derived from a non-salaried workforce selling the company's goods or services and the participants' earnings are derived from a pyramid-shaped or binary compensation commission system. The compensation plan in multi-level marketing typically pays out to members from two possible revenue sources. The first is based on a sales commission from directly selling the product or service; the second is based on commissions from wholesale purchases made by other sellers whom the participant has recruited to sell merchandise as well.
Something that comes to light when studying the latest three annual statement of the company is the significant increase in their so called "distributors", people that wish to resell products or build a sales organization. According to these annual statements, the company had 1 million distributors at the end of 2019, 1.5 million at end of 2020 and 2.3 million at the end of 2021.
I believe that a potential cause for this extreme increase in distributors can be attributed to the COVID pandemic. Lots of people lost their jobs with decreased income and a lot free time at their hands as result. Possibly because of this, new distributors could have been attracted quite easily to the MLM system of Herbalife with promises to make decent money.
The first result of having more sellers, is that it increases total sales efforts and thus more acquired customers. Furthermore, the new sellers will have to buy the products and certain marketing related sources, which increases the revenue for Herbalife directly. I believe that this could have resulted in the boost that is seen during the COVID-pandemic.
While these effects sound great, the MLM model is perceived to have disadvantages as well.
This business model has been perceived to be controversial as it most often leads to people actually losing money over it and using manipulative sales tactics. Furthermore, there are often high initial entry costs (for marketing kit and first products) and an emphasis on recruitment of others over actual sales.
While a lot of newcomers were promised great results during the COVID-pandemic when they needed it the most, they might end up with disappointment due to not making money. Not only could these sellers potentially become inactive, not attracting new sellers would mean less starter kit revenue. Based on these arguments, I believe that it will be difficult for Herbalife to sustain the sales level that it has achieves in the last 2 years.
Mixed Reviews on the products
When using Reddit to estimate the overall sentiment for the products, it can be concluded that people are quite negative about the brand (source 1, source 2). Arguments mentioned by people are the reports on potential liver injuries, that I mentioned before. Furthermore, most people mention the MLM model as a reason that they don't buy its products. Other Reddit users say it's expensive compared to making your own shakes. A doctor reviewed the product and recommended avoiding Herbalife.
Amazon reviews show high ratings. However, I am quite skeptical about authenticity of those reviews since other sources appear to have many negative reviews.
Industry Outlook and Competition
A study by Harvard estimates that nearly half of the U.S. will have obesity by 2030. As a result more and more people are using dietary supplements as a solution to combat the obesity. Hence, I expect this market to grow in the future.
Due to the attractiveness of the market opportunity, the market that Herbalife is in is extremely intense. A search for "Nutrition Shake" or "Protein Shake" on Amazon confirms this. There are many high-star products (even higher rated than Herbalife products) from different brands being offered. While the Herbalife brand is quite established, competing products might come up with new popular flavors and products which could potentially reduce sales of Herbalife. From the reviews, I believe that the products of Herbalife don't really offer any significant advantage over the alternative products. In my opinion, this could contribute to the challenge of sustaining its high sales numbers in the future.
Potential factors resulting in an upward price movement
While I do believe there are reasons that Herbalife awaits a challenging future, there are potential catalysts for the company. Furthermore, the valuation is cheap, which I will get further into in the next section.
During the COVID-19 pandemic, distributors could not attend real-life events such as seminars, workshops, lectures, et cetera. While Herbalife has tried to replace these with digital alternatives, I can imagine that the distributors, especially newcomers, would prefer and benefit more from real life interaction. As a result, (new) distributors might not have reached their full selling potential yet.
Furthermore, I argued before that the amount of new distributors could potentially be attributed to the COVID pandemic and that these could become inactive, leading to dropping revenues. However, if this would not be the case, and they will keep selling products and perhaps the trend of attracting distributors continues, that would mean that revenue increase or stay flat in the short term and increase in the longer term.
In these cases, combined with these low valuation levels, the stock could spike significantly.
Valuation and overall take on Herbalife
Valuation of Herbalife Nutrition
| | | | | |
| --- | --- | --- | --- | --- |
| Stock | Price To Sales | P/E | Revenue Growth Rate (3Y) in % | Free Cash Flow margin in % |
| Herbalife Nutrition | 0.48 | 5 | 5.86 | 5.7 |
| BellRing Brands | 2.54 | 22.37 | 14.65 | 12.86 |
Source: Seeking Alpha
I compare some basic stats of Herbalife to BellRing Brands, another player in the nutrition market.
Herbalife Nutrition has an extremely low valuation compared to BellRing Brands. Furthermore, the average S&P 500 company P/E ratio currently is around 15. On the other hand, its free cash flow margin looks rather bad.
Despite the low valuation of Herbalife, I still set my recommendation at "sell". The stock lost 40% of its value in the last 6 months and I don't see that drop stopping anytime near soon. Its sales had a nice peak in the pandemic due to its MLM model. The weight-management market is a very competitive one with a lot of respected companies trying to increase their market share. I believe that their products aren't perceived well enough to dominate over these other brands. I don't see any reason that it would surpass its COVID-pandemic sales numbers anytime soon and thus expect a decline or flattening sales numbers for a long time. Furthermore, I believe that the controversial nature of the business adds a lot of other risks to owning the stock. As current market momentum is already quite negative, in my opinion I don't see investors pouring money into a rather risky and speculative business such as Herbalife.