How Much Does It Cost to Cater a Wedding?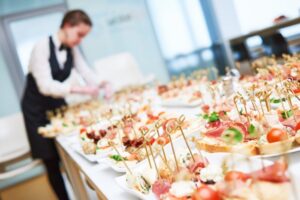 Food is an integral part of most celebrations, especially weddings. Therefore, it shouldn't come as a surprise that your food and beverage costs will be a large portion of your total budget. But if you are just in the planning stages, you'll probably want to know "How much does it cost to cater a wedding?"
The Reality of Planning a Wedding
Ever since I was a little girl, I have had big plans for my big day. My best friend and I would spend hours discussing who we would marry and planning the perfect party. While the themes, colors, flowers, music, and dress styles have changed over the years, I never put much thought into the menu. Nor did I realize how extravagant some of my ideas were, or how many other details you had to take care of to ensure the day goes smoothly.
Now that I have found the man of my dreams and we have set a date, the costs of these details are becoming all too real. We also realize that we have to be mindful of the budget. While I'm not the "spare no expense" type of bride, I want to serve our guests a great meal and plan a reception everyone will enjoy. Rather than sit back and hope everything works out, I prefer to have things arranged with the venue and vendors well in advance. So, we started by talking to friends, family, and local caterers to plan for the expense.
What Food Do You Serve?
Although it seems obvious, you may not realize how much the type of food and service style affect your bottom line. The more seasonal items you have and the more courses you serve, the more expensive it becomes. However, the typical menu will include some variations of the following options.
Appetizers
Since most guests arrive hungry, wedding planners agree that it's a good idea to start with appetizers. Depending on your budget, this usually includes bite-size options to tide people over until the main course. Finger foods you would find on a charcuterie spread are some of the most popular choices. Serving fruit, cheese, meats, nuts, crackers, chips, and dip is typically expected during the wedding meal.
Salads
Salads are another staple of any feast. At weddings, you will see a variety of both hot and cold salads served with appetizers or between courses. This could include cold salads with lettuce and veggies or hot dishes that have cooked vegetables, pasta, rice, beans, or other proteins.
Entree
The entree is the main course and is likely to be the most costly aspect of the meal. Most couples offer their guests three options between meat, fish, or vegetarian. Your budget will dictate which selections your caterer can offer you.
Dessert
While everyone knows there will be cake, you should also include other dessert options for your guests after the meal. In addition to the traditional dessert, you can usually find other selections similar to what you would find at a restaurant.
Beverages
Your family and friends will also need drinks to go with their meal. Like all the other choices, the budget varies widely depending on the alcoholic and non-alcoholic offerings.
How Much Does It Cost to Cater a Wedding?
The simple answer is that the average cost for catering is about $4,000. However, most couples spend between $1,800 – $7,000 to feed their guests. If you decide to include alcohol, this can add an extra $1,500 – $3,000 to the total cost. But, keep in mind that catering prices vary widely depending on several factors such as the location and zip code, the number of guests, service style, design and styling, and even the season. There is good news though; most caterers have tiered pricing for different budgets and provide similar options at different price points.
Since we already had our guest list and styling decisions made, the biggest question was which service style was best for us. Based on the quotes we received, here's what we found the average pricing to be:
plated service = $40 per person
buffet style = $27 per person
cocktails and hors d'oeuvres = $20 per person
food truck = $20 per person
Although we are still working out the details, we are looking at catering packages for buffet service. Choosing a full-service caterer will reduce the headache of arranging everything ourselves and allow us to enjoy the day. Plus, many venues provide their own caterers and menus to help you plan. They have standardized pricing per person, so you know exactly how much you are spending. And, their quote will include the cost of food, beverages, staff, rentals, gratuity, and all additional fees.
Ways to Minimize the Costs to Cater a Wedding?
Although we went with a more economical service option, we will be including a limited bar. So after asking "How much does it cost to cater a wedding?", we discovered our budget will be at the higher end of the scale. But, if you are worried about maintaining your budget, here are 15 ways to minimize catering costs.
Skip the extra fees of hiring a wedding planner.
Scale back the guest list.
Get an accurate headcount so you don't order more than you need.
Ask guests to order in advance with the RSVP.
Be flexible with possible dates.
Compare rates between venues and caterers to find the best deals. Some offer referral discounts as well.
Host a brunch that has cheaper, yet still delicious food options.
Look at restaurants that cater outdoor events for no additional charge.
Choose a buffet or food truck to keep costs down.
You can also go with easy-to-prepare food options like pizza, pasta, sandwiches, and salads.
Avoid more expensive food items like shrimp or lobster.
Don't take the menu upgrades.
Designate someone to serve guests to control portion size.
Opt for a limited or cash bar.
Forget the champagne toast.
Food for Thought
When asking ourselves, "How much does it cost to cater a wedding?", we are willing to put aside other expenses to make sure we have menu items that everyone will love. And although some people don't think it isn't necessary to hire a professional caterer, we decided the cost was worth our time and effort. The price of convenience will buy us peace of mind and allow us to be fully present in the celebration. However, it will significantly raise the bottom line. If you are struggling to stay under budget, you have to be realistic and stick to what you can afford.
Read More
Come back to what you love! Dollardig.com is the most reliable cash-back site on the web. Just sign up, click, shop, and get full cashback!