Kimco Realty: Secure A Safe And Growing 4% Dividend Check (NYSE:KIM)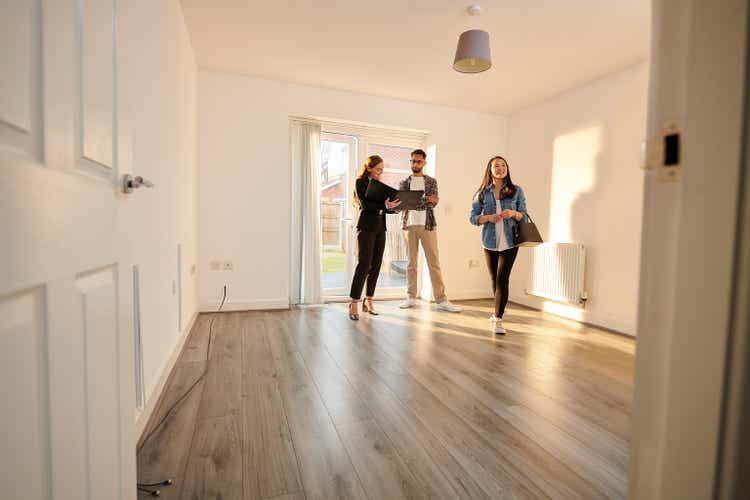 Stock prices in the real estate investment trust sector, which includes open-air shopping center investor Kimco Realty Corporation (NYSE:KIM), have suffered as a result of recent market weakness.
The trust has begun to increase its dividend payout in 2022, and market conditions are currently favorable to Kimco Realty. Kimco Realty's valuation is attractive based on FFO guidance, and dividend investors can expect higher dividend income in the future.
Net Operating Income Growth And Normalizing Occupancy Rates
Kimco Realty has come a long way: the pandemic posed a significant challenge for the trust, but the lease business has consistently shown signs of recovery over the last year.
During the pandemic, which had a negative impact on Kimco Realty for four quarters, the trust had to deal with a significant drop in net operating income as well as portfolio occupancy.
On the other hand, Kimco Realty has seen a strong rebound in its same-property portfolio over the last four quarters. Kimco Realty increased its net operating income by 8.9% in the most recent quarter, 1Q-22.
The same recovery trends that drove up the trust's net operating income also drove up Kimco Realty's occupancy rate, which is an indicator of portfolio health. Kimco Realty's portfolio occupancy rate increased to 94.7%, a 0.3 percentage point increase over the previous quarter. The trust's occupancy only needs to rise another 1.3 percentage points to return to where it was before the COVID-19 pandemic in 2020.
Strong Real Estate Demand Is Driving Up Lease Rates And Spreads
The real estate sector is recovering from the pandemic, as evidenced by rising rental rates and wider lease spreads.
Kimco Realty's rent per square foot increased to $19.22 per square foot, a 4.9% increase YoY due to recovering demand. Simultaneously, landlords' growing pricing power is reflected in the widening of lease spreads.
Lease spreads represent the difference in rents for 'new' and 'old' real estate space. Higher re-letting rents are obviously a great way for trusts to maximize their rental income, which is exactly what Kimco Realty is doing.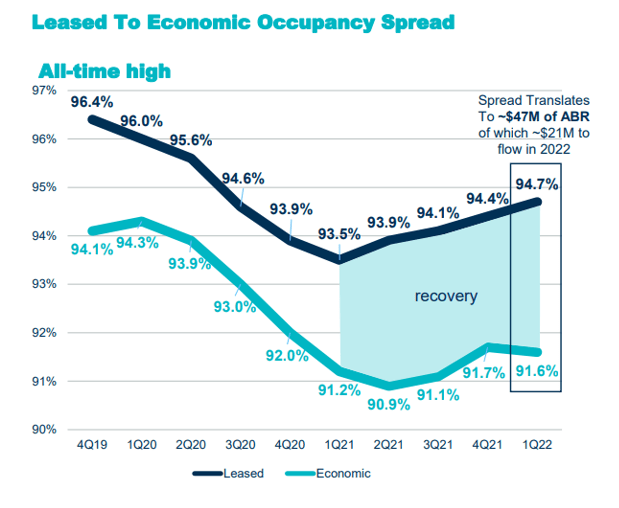 The Dividend Is Growing Again
The best reason to buy Kimco Realty is that the trust's dividend is increasing again, and the trust has a very low pay-out ratio, implying that more dividend increases are possible. Based on Kimco Realty's funds from operations, the pay-out ratio was less than 49% in the previous year.
The trust's dividend was also increased twice recently, from $0.17 per share in 4Q-21 to $0.19 per share in 1Q-22. Another dividend increase increased the dividend to $0.20 per share in 2Q-22, representing an 18% increase overall. Kimco Realty currently has a stock yield of 4%.

Attractive Valuation
Kimco Realty's stock fell from $26 in May to $20 at the start of July, owing to a larger correction in the stock market caused by growing recession fears.
Kimco Realty increased its guidance for 2022 and now expects funds from operations to range between $1.50 and $1.53 per share. The new guidance implies an FFO-multiple of 13.3x based on the current stock price of $20.21.
Kimco Realty's P/FFO ratio was 17.7x three months ago, while the dividend pay-out and yield were both lower than they are now.
Will A Recession Hurt Kimco Realty's Business?
A recession, I believe, will have a significant impact on the real estate investment sector, which is ultimately dependent on lessees in Kimco Realty's open-air shopping malls paying their rents on time.
With that said, I believe the upcoming recession will not be as severe as the 2020 real estate market downturn, which prompted Kimco Realty to reduce its dividend payout. Kimco Realty's dividend appears to be exceptionally safe due to its extremely low pay-out ratio.
My Conclusion
In terms of occupancy, lease rates, and net operating income, Kimco Realty's shopping mall business continues to improve.
Having said that, in recent weeks, recession fears have weighed on the stock market, including the REIT sector, lowering Kimco Realty's FFO valuation multiple significantly.
Furthermore, a pay-out ratio of less than 50% and an increased dividend/FFO outlook for 2022 make the stock very appealing to dividend investors seeking safety.