Lockheed Martin Stock: 3 Reasons To Buy Now (NYSE:LMT)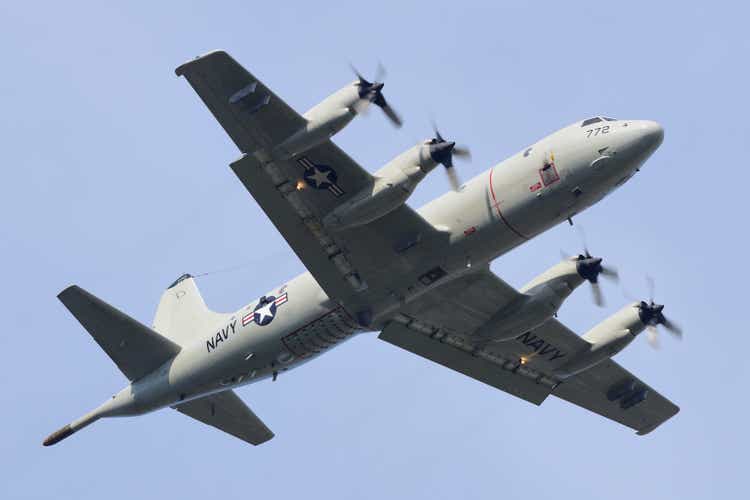 Lockheed Martin's (NYSE:LMT) stock has performed particularly well year to date. The firm's stock prices as increased by more than 18%, while the broader market has seen a substantial decline of more than 18%.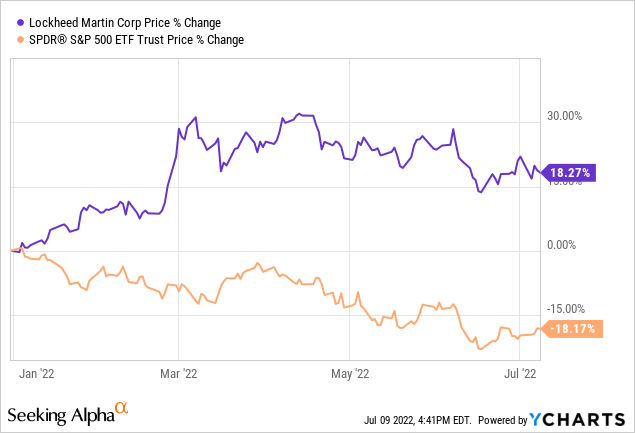 Although this price increase is mostly associated with the ongoing geopolitical tension in the Eastern European region, we believe that the firm is well-positioned to outperform in the current market environment.
In this article, we will look at three reasons, why we believe LMT could be an attractive buy at the current valuations.
1.) Independence from consumers' confidence
Consumer confidence is often regarded as a leading economic indicator, used to forecast potential changes in the consumer spending behaviour in the near future. In times of rising inflation and interest rates consumers may decide to consume and spend less, which could eventually result in a slowing economic growth. Firms that are selling durable, discretionary, non-essential goods are likely to be impacted the most by the declining consumer confidence.
On the other hand, firms like Lockheed Martin are likely to remain relatively unaffected. Consumer spending has little to no influence on the financial performance of the firm. Most of LMT's revenue is coming from the U.S. government. As long as the government is willing to spend on defense technology, the demand for the company's products is likely to remain stable.
The following chart shows between 2000 and 2021, how much was the net sales of Lockheed Martin to the U.S. government.
To put these figures into perspective, in 2021 Lockheed's net revenue was $67 billion, two thirds of which ($42 billion) was to the U.S. government.
To further prove our thesis that LMT's performance is independent of the consumer confidence, let us take a look how the firm's stock price has developed during times of low consumer confidence in the last 20 years.
The following graph shows how U.S. consumer confidence has developed in the past. We are going to focus on the periods here, which are marked with red.
2001-2003
While in this time frame the broader market has declined by as much as 33%, Lockheed Martin's stock price has risen by more than 70%, performing especially well in 2002.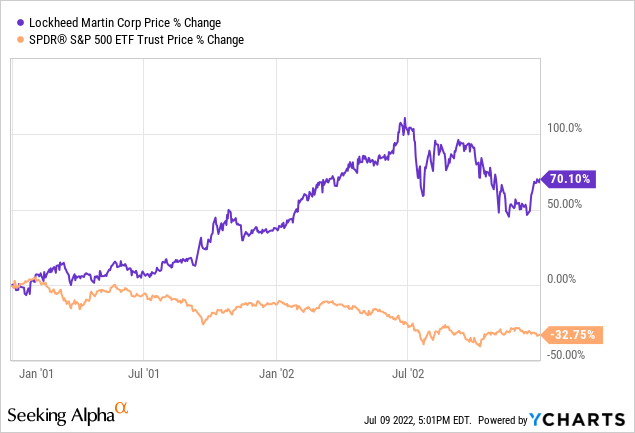 2007-2010
Between 2007 and 2010, both LMT and the S&P 500 (SPY) have finished in the negative territory. Although Lockheed was performing well in 2007 and in the first half of 2008, the stock price took a hit with the unfolding of the financial crisis. Eventually, in this time frame, LMT lost about 18% of its market value, but still outperformed the broader market.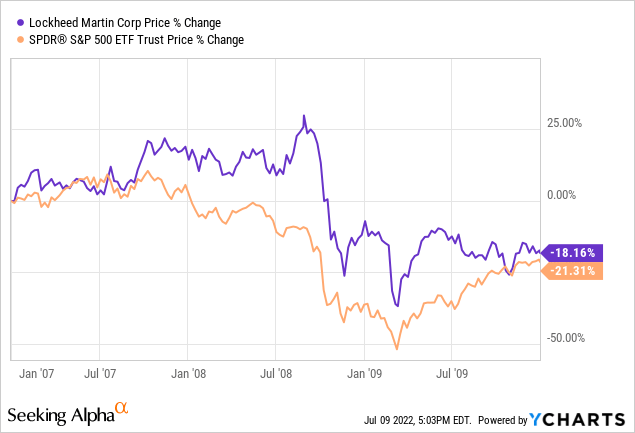 2011-2013
This period was much better for both LMT and SPY. But LMT once again outperformed the broader market by gaining more than 30%, in contrast with the 13% gain of the SPY.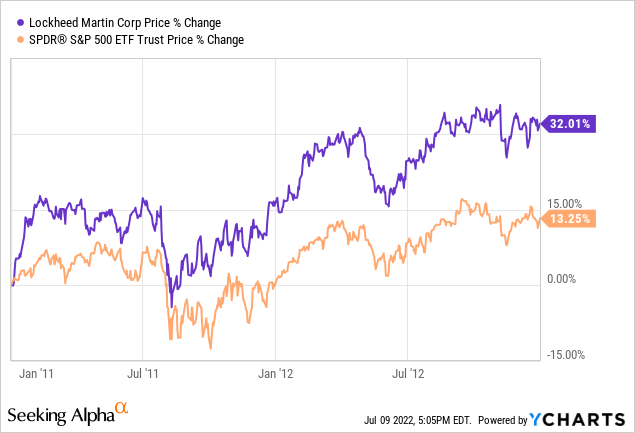 Although past performance is not necessarily a good indicator of the future, what we would like to illustrate here is that LMT's performance is not heavily reliant on the consumer, which could be quite attractive in times of low consumer confidence.
2.) Dividends
Lockheed Martin has a long track record of returning value to its shareholders in the form of dividend payments. The firm has been paying dividends since 1996, which means for 26 years consecutively. They have also managed to keep paying the quarterly dividend during the COVID-19 pandemic, when many firms were forced to pause the payments.
Not only has the firm paid, but they have been also increasing the payout each year since 2002. Currently the firm pays a quarterly dividend of $2.8 per share, which corresponds to an annual yield of about 2.7%.
Also, important to see, whether the current dividend is safe and sustainable. Although the payout ratios appear to be much higher than the industrials sector median, historically LMT has been also paying out more than the sector median.
In our opinion, the current payout is safe and sustainable in the near term.
If we look a bit further into the future, just like us, analysts also expect LMT's sales to remain stable in 2022 and 2023. However, depending on the duration and further development of the geopolitical tension in the Eastern European region, we might even see an increase in demand for LMT's products. Further, the expansion of NATO could also generate additional tailwinds for Lockheed.
On the other hand, analysts also expect EPS to gradually grow in the near future. We remain cautious regarding EPS, because increased raw material prices, elevated transportation costs and other macroeconomics headwinds may put downward pressure on LMT's margins.
Based on these forecasts and expectations, we believe that LMT's dividend payment is not only safe and sustainable now but is likely to remain so in the upcoming years.
In our opinion, LMT could be an attractive addition to a dividend or dividend growth portfolio. It also provides some diversification benefits, if you do not already have defense companies in your portfolio.
3.) Share buybacks
Established players in the defense industry, like LMT, are not likely to exhibit extraordinary growth. However, besides the dividends, they also return significant value to their shareholders through share repurchase programs.
In the last decade, Lockheed Martin has reduced its number of shares outstanding by as much as 17% and we expect this trend to continue.
Key takeaways
Lockheed Martin's performance appears to be relatively independent of the consumer spending. In our opinion, during times of low confidence, LMT could perform relatively well, as about 2/3 of its revenue is coming from the U.S. government.
The firm pays a safe and sustainable dividend and has been doing so for the last 26 years. We believe that the dividend payments are likely to remain sustainable, as the current geopolitical situation and the expansion of the NATO could increase the demand for LMT's products.
Lockheed has been also returning value to its shareholders by consistently reducing its number of shares outstanding.
For these reasons, we rate Lockheed Martin as "buy".