Lundbeck Gets A Much-Needed Win, Investment Case Still Not Clear-Cut (HLUBF)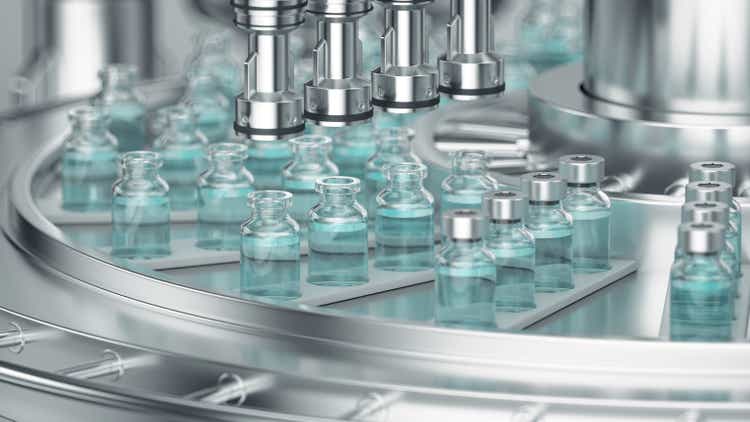 Shareholders of Danish pharmaceutical company H. Lundbeck (OTCPK:HLUBF) (OTCPK:HLUYY) finally had something to celebrate recently, as the company followed up on better-than-expected first quarter earnings with positive clinical trial results in a key study of Rexulti in the treatment of Alzheimer's-associated agitation. This clinical success opens up a market worth potentially more than $1 billion in revenue and gives the company some much-needed positive news from its pipeline.
The outlook for Lundbeck is better now than it has been in a while, but there are still significant challenges to consider. The pipeline is overwhelmingly early-stage, the company still has significant exposure to old, off-patent products, and management's behavior hasn't been what I would consider "shareholder-friendly", particularly with a recent move to cancel the sponsored ADR program. While I do think the shares are undervalued, I'm not sure I can make a compelling argument that this is an investment option that is worth the hassle for most U.S. investors.
A Much-Needed Clinical Win
It's been quite some time since Lundbeck has posted a meaningful clinical trial success, but the company got exactly that in late June. Management announced that after multiple setbacks, the most recent pivotal study for Rexulti in the treatment of agitation associated with Alzheimer's disease (or Alzheimer's-associated agitation) achieved statistically significant positive results.
Prior studies of Rexulti for this indication had achieved mixed results, with noticeable numerical improvement in metrics like the Cohen-Mansfield Agitation Inventory (or CMAI) and Clinical Global Impression – Severity of Agitation (CGI-S), but those studies failed to achieve consistent statistical significance, in part due to trial design.
While some investors will no doubt be skeptical of this positive result, I believe the impact of trial design, and particularly the inclusion of Russian sites, should not be dismissed out of hand. Prior studies had as many as 25% of trial participants coming from Russia, where patients are often housed in wards, a situation that has been shown to contribute to much worse agitation symptoms in Alzheimer's patients, and where diagnosis and compliance with trial enrollment protocols has been "iffy" at times.
With potentially 2 million patients in the U.S. alone, I expect this follow-on indication for Rexulti to be material for Lundbeck. There is no on-label treatment for Alzheimer's-associated agitation and many of the treatments used today, including anti-psychotics and sedatives, have meaningful side-effect profiles. I believe peak sales for Rexulti in this indication could exceed $1B, and there could be upside to that number over time. Lundbeck and its marketing partner Otsuka (OTCPK:OTSKY) are planning to file a supplemental NDA with the FDA later this year, opening the door to approval around mid-2023.
A Return To Normalcy Should Help The Business
With the COVID-19 pandemic waning (though recent news about new variants is concerning…), there has been some normalization in doctor visits and pharmaceutical marketing efforts, both of which should help Lundbeck's portfolio of newer drugs.
Overall sales were down slightly in the first quarter (down 1% in constant currency), due largely to the impact of lost sales of Northera to generic competitors, but the company's "Four Horsemen" of Abilify Maintena, Trintellix/Brintellix, Rexulti, and Vyepti all delivered double-digit year-over-year revenue growth, with all but Vyepti exceeding sell-side expectations.
With sales a bit head of expectations (a 3% beat) and better margins, Lundbeck exceeded sell-side core EBIT expectations by 16% and the company should see good momentum with its portfolio of newer drugs on the back of renewed marketing efforts.
Vyepti remains a key unknown at this time. Given that this drug is administered via infusion at a time when there are other options like Amgen's (AMGN) Aimovig (a once-monthly subcutaneous injection) or AbbVie's (ABBV) Qulipta (oral) on the market, it was always going to be an uphill climb for this drug, with most of the positives centered around its rapid onset of action and its ability to help migraine sufferers who have not responded to other therapies. Still, the drug has disappointed throughout its initial launch (even accounting for the impact of the pandemic) and it remains to be seen if management can turn this into a winning program.
Non-Financial Issues Aren't Trivial
As expected, the company's proposal to split its shares into Class A and Class B shares with different voting rights to preserve the control of the Lundbeck Foundation went through and has been put into effect. I didn't like this move before, and I still don't like it, as I believe in a basic "one share one vote" approach.
Making matters worse for American investors, the company has announced the termination of its sponsored ADR program, with the program ending on August 9. While American investors will still be able to buy "F" shares, this can be a less liquid and more expensive way of owning shares. I personally own the local shares, and that has been relatively straightforward, but that may not be an option for all investors, and there are some hassles involved in doing so.
The Outlook
I previously used a probability-weighted model for the contributions of Rexulti in Alzheimer's agitation, so the pivotal clinical success does add revenue to my model and does boost my fair value. Even so, I had assumed a positive outcome here and the impact isn't transformation to my model or my fair value estimate.
I continue to expect low single-digit revenue growth from Lundbeck, and success with its early-stage clinical pipeline and/or a more successful M&A program would be helpful in improving that long-term revenue growth outlook. Likewise, the investments that the company is making into Vyepti (R&D spending for follow-on studies to broaden the label, and marketing spending) could be a source of future upside, but I'm relatively bearish on this program right now (I consider it a consummate "show me story").
Despite a modest revenue growth outlook, I do expect improved profitability as the company moves past some significant upfront expenditures for clinical trials and so on, and I believe the company can return to high-teens to low-20%s FCF margins over time, helping drive low double-digit free cash flow growth.
The Bottom Line
I do believe that Lundbeck is priced for a double-digit total annualized return at today's price, and I do see potential upside from not only Rexulti, but also other drugs like Abilify Maintena and perhaps Vyepti. I'm also giving no credit to the pipeline at this point, so success in Phase II studies could not only add value to the model but also boost sentiment.
That said, while I do think that Lundbeck is undervalued, there are reasons for investors to pause here – reasons that range from potentially throwing good money after bad to bolster Vyepti to shareholder-unfriendly actions like canceling the ADR program. At a minimum, I do think it's fair to ask if Lundbeck is worth the hassle today and despite the undervaluation, I cannot give an unequivocal positive recommendation.