Oscar Health Grows Revenue But Needs Progress To Profitability (NYSE:OSCR)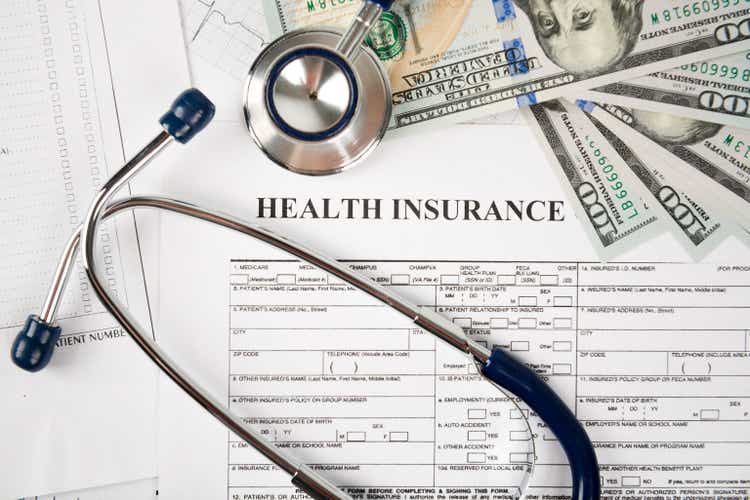 A Quick Take On Oscar Health
Oscar Health, Inc. (NYSE:OSCR) went public in March 2021, raising approximately $1.44 billion in gross proceeds from an IPO that priced at $39.00 per share.
The firm provides healthcare insurance services to consumers and related software and healthcare plan solutions.
While I'm on Hold for OSCR for now, interested investors should look for a trend toward operating breakeven in future quarterly reports from the company as evidence that management is executing according to its intentions to achieve profitability.
Oscar Health Overview
New York, New York-based Oscar was founded to develop a modern healthcare insurance delivery system directly for individual consumers and through businesses in the U.S.
Management is headed by co-founder and CEO Mario Schlosser, who was previously co-founder of Vostu, a social gaming company in Latin America and senior investment associate at Bridgewater Associates, "where he developed analytical trading models."
In addition, the company also provides virtual care offerings, such as its Virtual Primary Care service, which has grown in usage since the onset of the COVID-19 pandemic.
OSCR's Market & Competition
According to a 2020 market research report by Grand View Research, the global market for healthcare insurance was an estimated $2.4 trillion in 2019 and is expected to reach $4 trillion by 2027.
This represents a forecast CAGR of 6.7% from 2020 to 2027.
The main drivers for this expected growth are a continuing rise in the cost of healthcare, growing prevalence of chronic diseases owing to an aging global population and increased discretionary income.
Also, below is a chart showing the historical and projected U.S. healthcare insurance market size: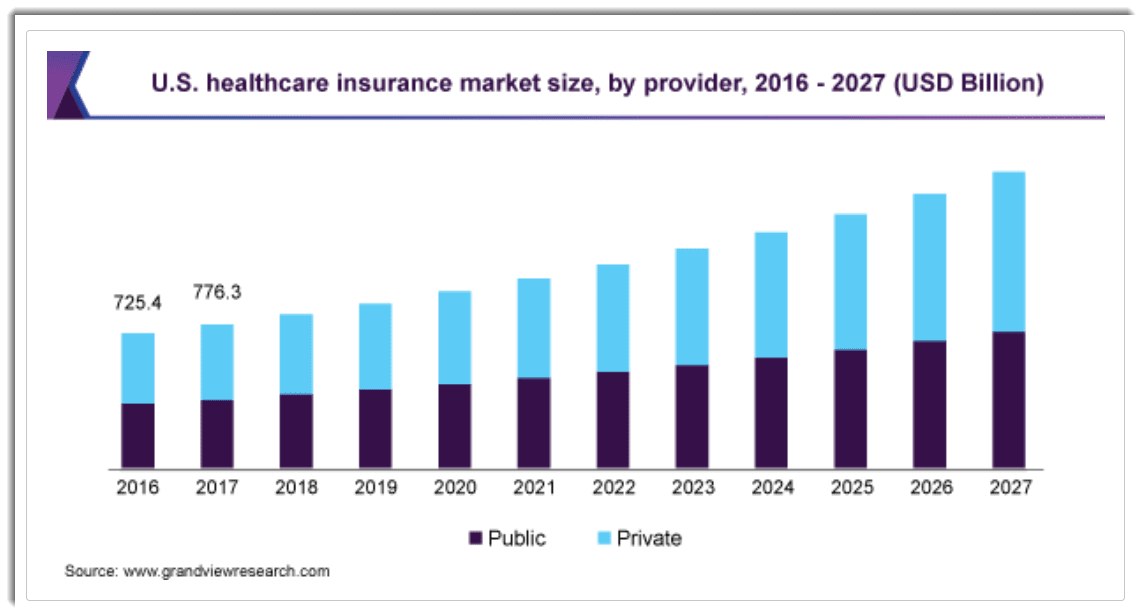 Major competitive or other industry participants include:
UnitedHealth Group (UNH)

Aetna (owned by CVS)

Anthem/Elevance (ELV)

Centene (CNC)

Cigna (CI)

CVS Health (CVS)

Humana (HUM)

Kaiser Foundation
Oscar Health's Recent Financial Performance
Total revenue by quarter has grown unevenly on a sequential basis: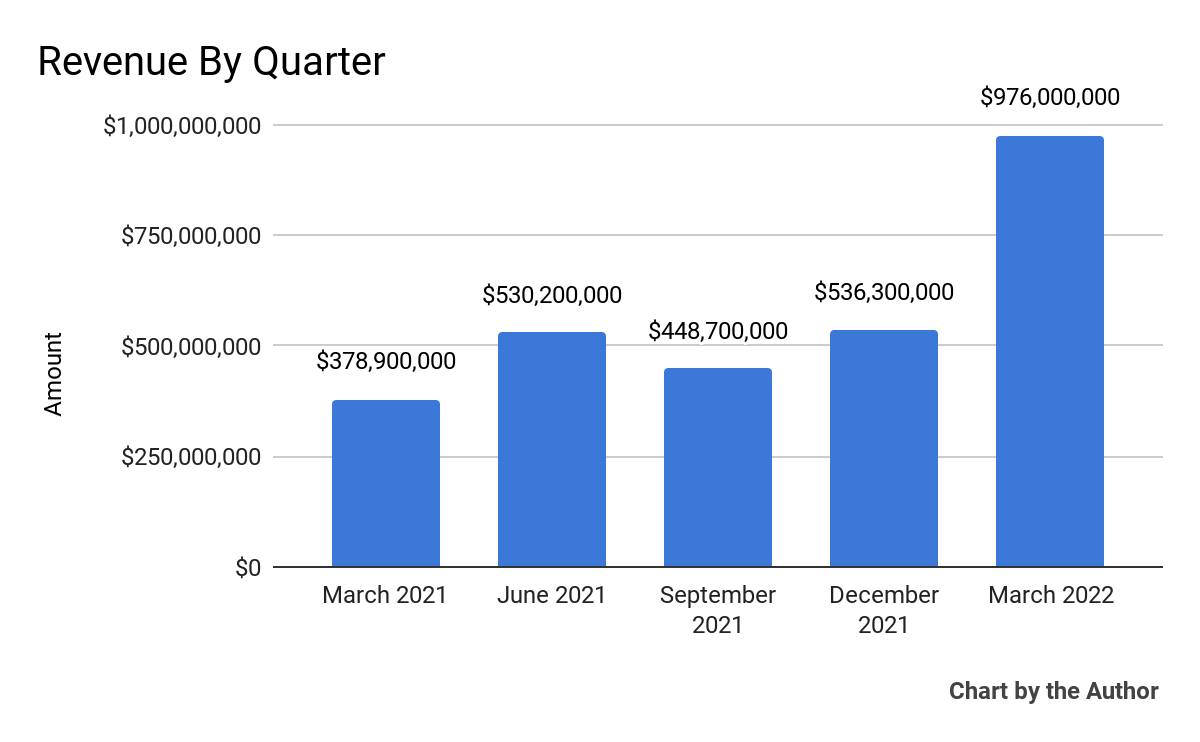 Gross profit by quarter has also been variable over the past 5 quarters: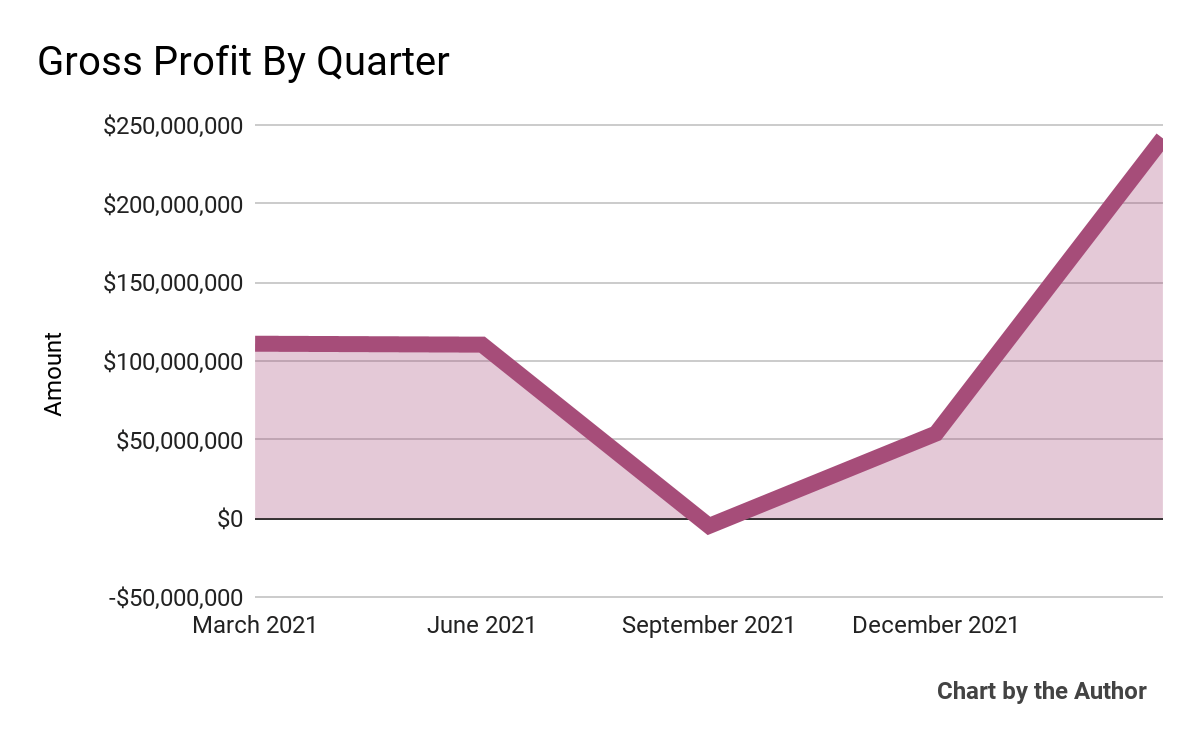 Selling, G&A expenses as a percentage of total revenue by quarter have varied without a particular trend, as the chart shows here: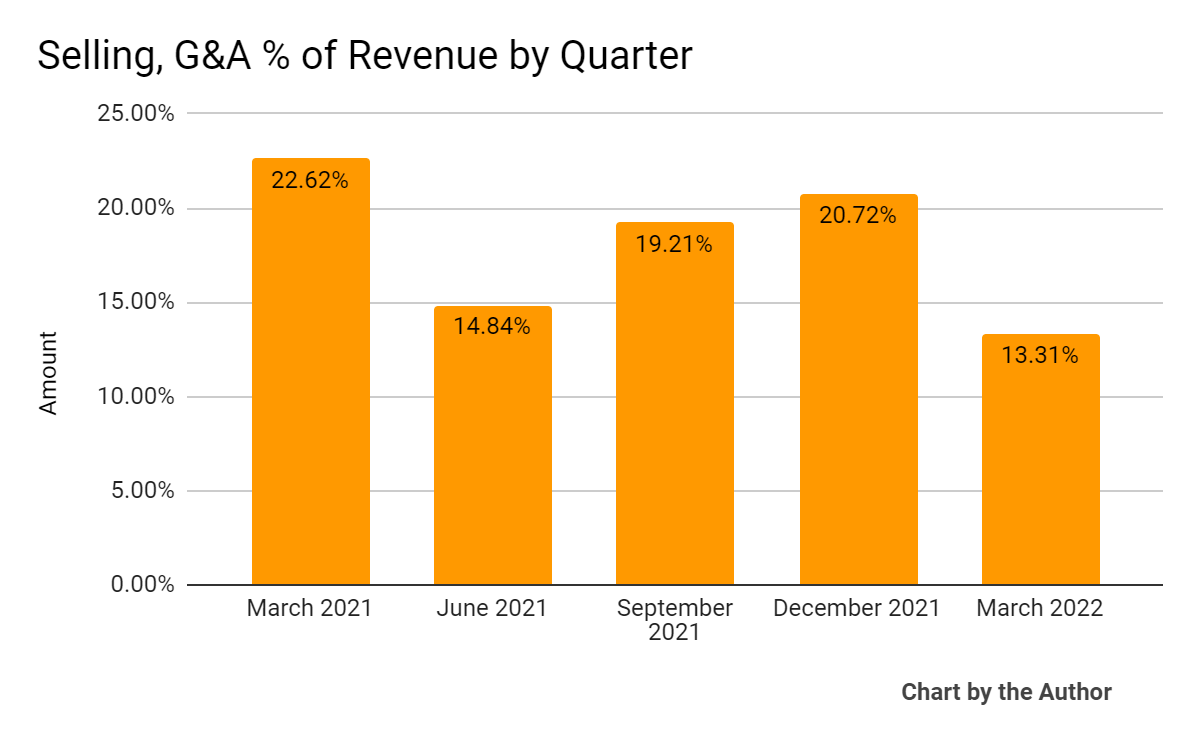 Operating income by quarter has remained significantly negative: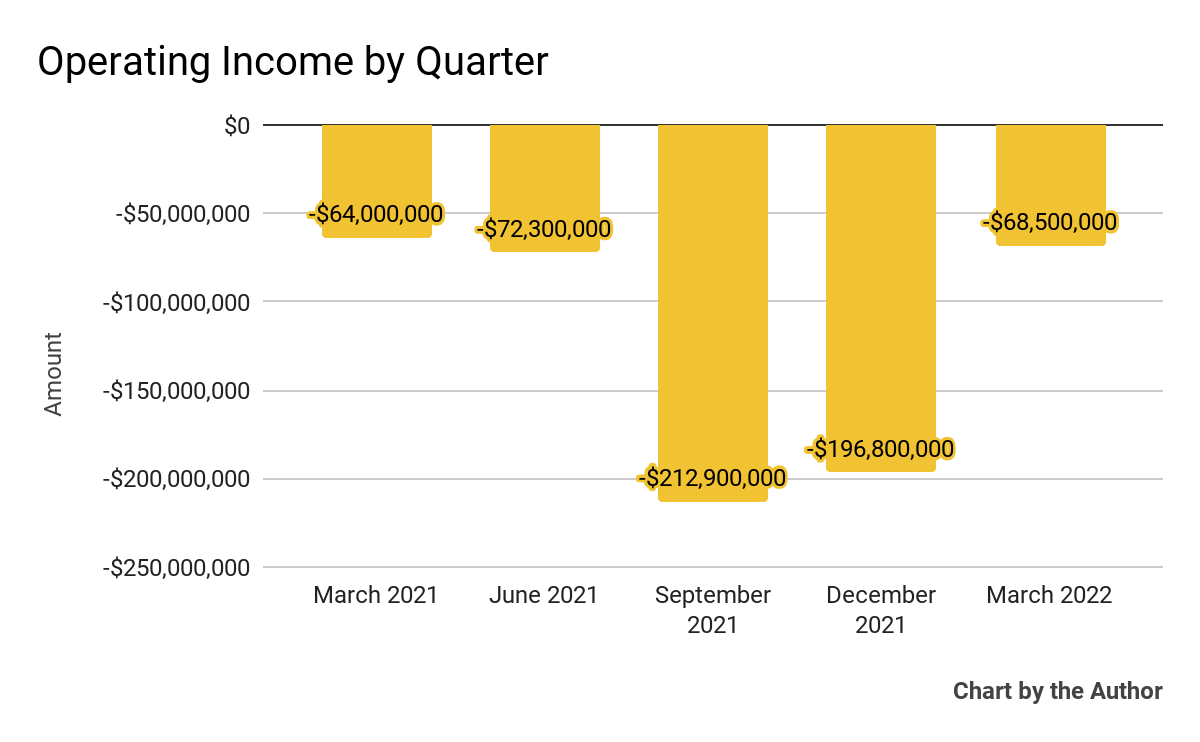 Earnings per share (Diluted) have been highly variable but negative in four of the past five quarters: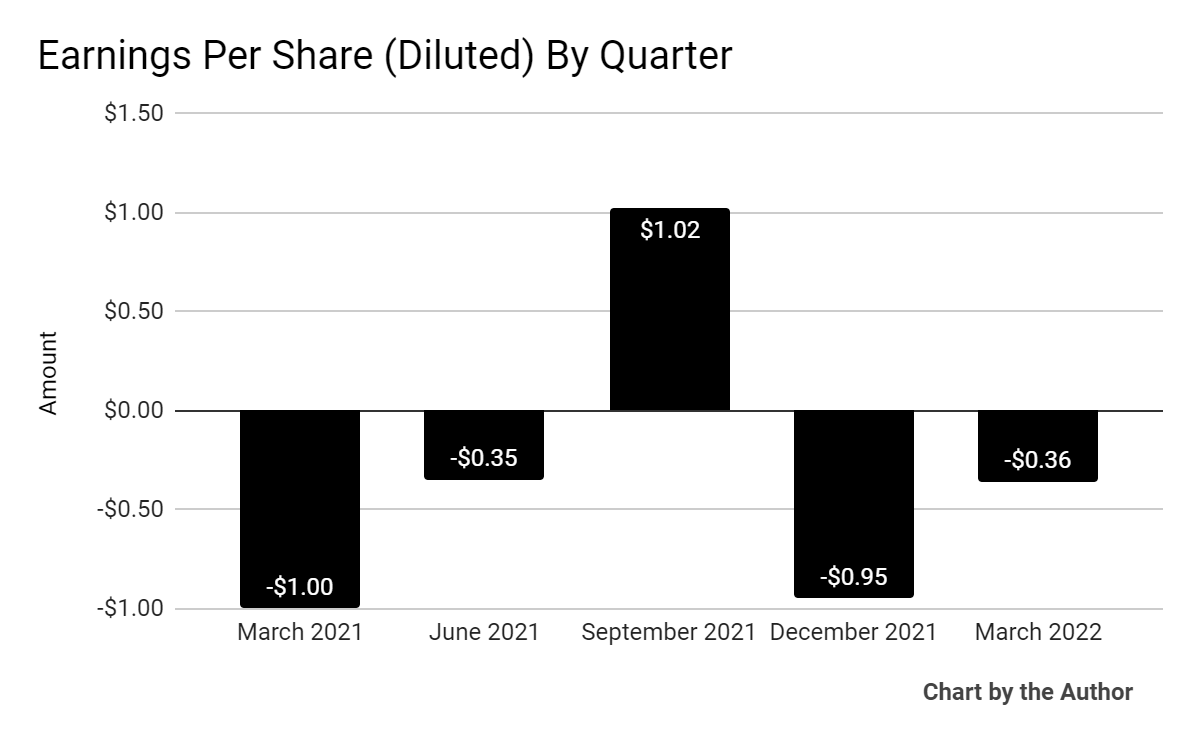 In the past 12 months, OSCR's stock price has fallen 75.6 percent vs. the U.S. S&P 500 index' drop of around 10 percent, as the chart below indicates: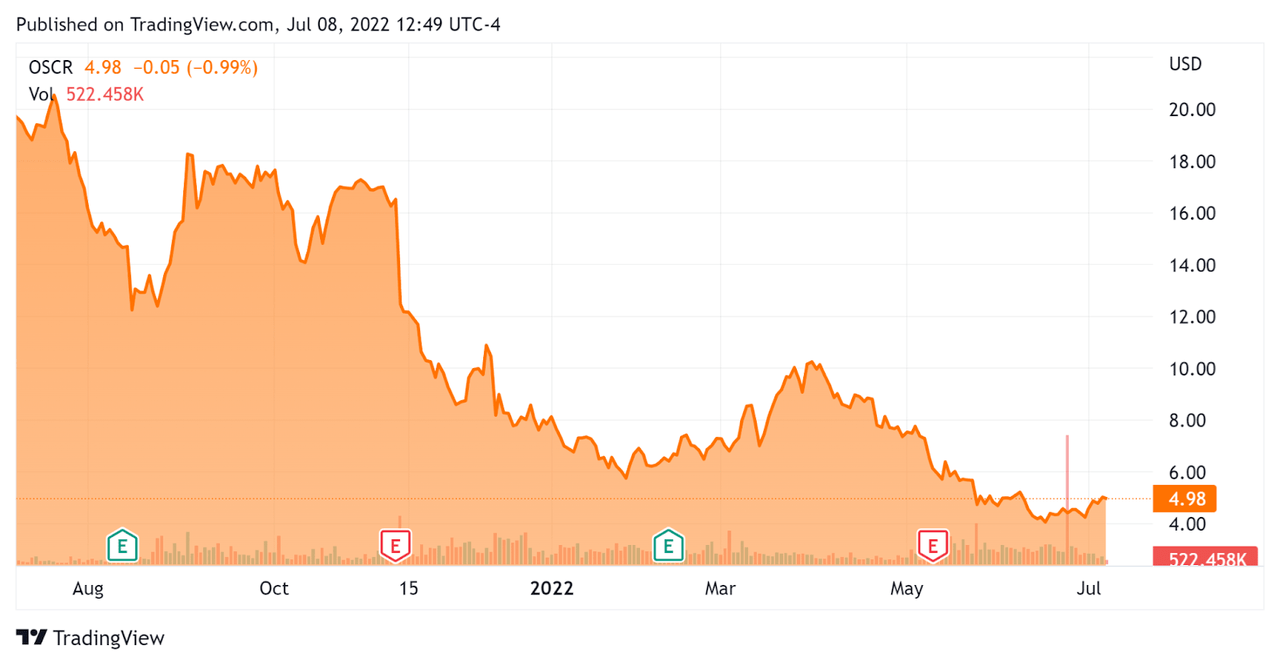 Valuation Metrics For Oscar
Below is a table of relevant capitalization and valuation figures for the company:
| | |
| --- | --- |
| Measure | Amount |
| Enterprise Value | -$629,670,000 |
| Market Capitalization | $1,060,000,000 |
| Price / Sales [TTM] | 0.42 |
| Revenue Growth Rate [TTM] | 265.37% |
| Operating Cash Flow [TTM] | $63,410,000 |
| CapEx Ratio | 2.49 |
| Earnings Per Share (Fully Diluted) | -$0.64 |
(Source – Seeking Alpha)
As a reference, a relevant partial public comparable would be Clover Health (CLOV); shown below is a comparison of their primary valuation metrics:
| | | | |
| --- | --- | --- | --- |
| Metric | Clover Health | Oscar Health | Variance |
| Price / Sales [TTM] | 0.55 | 0.42 | -23.6% |
| Operating Cash Flow [TTM] | -$246,500,000 | $63,410,000 | |
| Revenue Growth Rate | 188.0% | 265.4% | 41.1% |
(Source – Seeking Alpha)
A full comparison of the two companies' performance metrics may be viewed here.
Commentary On Oscar Health
In its last earnings call (Source – Seeking Alpha), covering Q1 2022's results, management highlighted the team's focus on 'greater variable cost efficiency using [its] technology to reduce manual processes, as well as leveraging [its] scale to obtain the unit cost.'
Also, the company seeks to optimize its utilization via automated decisioning to providers which reduces the need for manual intervention.
The firm is also expanding its virtual primary care to new states and markets to help reduce costs.
For its Plus Oscar offering to provider-sponsored and regional health plans, the program has grown to 100,000 client lives served.
As to its financial results, Q1 membership and related premiums increased by 100% year-over-year due to growth and retention primarily in the individual and small group segments.
Management believes the individual market 'is becoming a more dominant force in U.S. healthcare', and says the company is positioned 'to thrive in such a consumer driven, cost competitive markets where affordability and experience matter.'
OSCR's medical loss ratio was 77.4%, which was 3% higher than in Q1 2021, and was driven by a mix shift toward more 'silver' members which produces a flatter MLR seasonality variability.
Operating losses, while still significantly, were markedly lower sequentially than in previous quarters, a positive move by management and which buttresses their claim of prioritizing a move to profitability over growth at all costs.
For the balance sheet, the firm ended Q1 with more than $3.4 billion in cash and investments. Q1 produced $37.9 million in free cash flow, a positive sign, but the two previous quarters used high amounts of free cash.
Looking ahead, management says it is "targeting profitability for Oscar insurance in 2023," by emphasizing profitability over growth.
Regarding valuation, the market has severely beaten down OSCR's stock for a wide variety of uneven performance-related issues.
So many recently-public tech-enabled health insurance firms have been severely punished in the market downturn it is difficult to see a significant catalyst to turn these stocks around.
To that point, management repeatedly emphasized its push to reach profitability, so maybe the answer is simple: become profitable and your stock price will rise.
While I'm Hold on for OSCR for now, interested investors should look to a trend toward operating breakeven in future quarterly reports from the company as evidence that management is executing according to its intentions to achieve profitability.