Playing The First Horizon-TD Bank Merger (NYSE:FHN)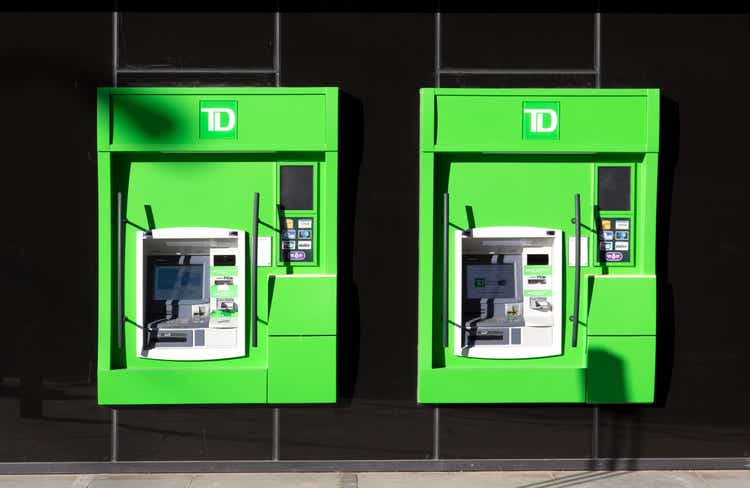 We recently had an interesting conversation with a former co-worker discussing the banking industry and how many portfolio managers are scratching their heads as they try and figure out how to trade names involved in M&A. Merger arbitrage trades (across all industries) have gotten to be a much more risky proposition in recent months due to more government oversight, but also because of the rapidly changing economic picture. Making matters worse, the stock market has pulled back strongly since some deals were announced which means that should the deal fall apart, the target company's stock has further to fall to current fair value.
With the Biden Administration now focused on corporate M&A activity, and appearing inclined to give all deals more scrutiny, investors will have to pay more attention to trades centered around mergers. We believe that there will be plenty of mergers which are approved even as more mergers will probably be denied, while acknowledging the reality that companies who are allowed to proceed with their M&A transactions will most likely be forced to accept conditions which previously would not have been required. We have already seen this occur in the banking sector, with U.S. Bancorp (USB) having had to agree to lend $100 billion in specific programs in California to move forward with their acquisition of MUFG Union Bank. For further background, the American Banker has a good article on the U.S. Bancorp deal surrounding the MUFG Union Bank merger.
There are a few more bank mergers which will see their public meetings occur soon, namely BMO Financial Corp.'s (BMO) purchase of BNP Paribas's (OTCQX:BNPQY) US subsidiary, Bank of the West, and Toronto-Dominion Bank's (TD) acquisition of First Horizon Corporation (NYSE:FHN).
Meetings Will Be Key
We point out both of these meetings, because although we are specifically interested in TD and First Horizon's deal, BMO will be up to bat first as their meeting is scheduled for July 14, 2022. TD's meeting will be held on August 18, 2022 so we believe that for investors holding positions in both TD and First Horizon that they would be well served paying attention to what the community groups throw at BMO on July 14 to gauge the level of interest their meeting will most likely garner.
It is our opinion that the BMO meeting should be similar to U.S. Bancorp's as the successful playbook for California community groups already exists (not to mention the same groups could be involved) and the mergers have a fair amount of parallels. One will be able to feel much better about the industry's M&A prospects so long as the discussions during the meeting stay on course and are focused on the specific merger. If that is the case, then we could see investors bid up First Horizon shares a bit as their deal looks to be on better ground ahead of their meeting on August 18th. If the meeting goes awry, and instead of discussions focused on the specific deal we see an overarching conversation regarding bank M&A in general and opposition centered around arguments which have been put out by people such as progressive Senator Elizabeth Warren (D-Massachusetts), then this is less of a business matter and more of a political issue; which to be clear is not at all good for the target banks or industry M&A moving forward.
So What Should Investors Do?
As it pertains to the Toronto-Dominion and First Horizon deal, we think investors who own exposure to First Horizon shares should do nothing (other than maybe using some cheap puts on First Horizon shares to hedge positions) until after the July 14th meeting to get a bit more clarity. Even though that meeting is for the BMO and Bank of the West merger, there should be plenty of analysis after that meeting which can be extrapolated and applied to the TD and First Horizon deal. After that meeting, positions can be optimized to better manage risk until the August 18th meeting for the TD-First Horizon merger.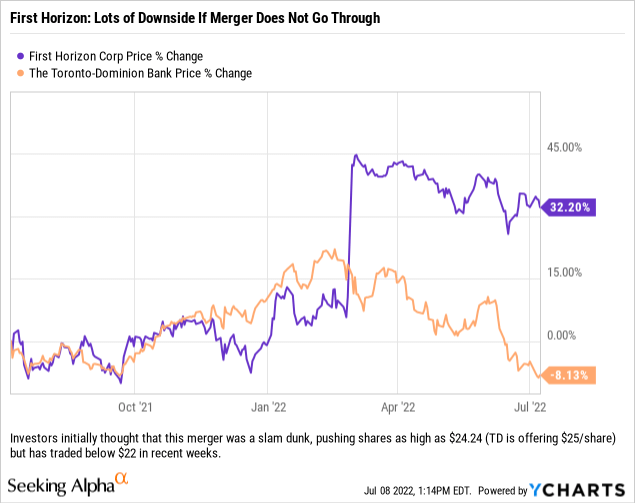 While this first step sounds like a cop-out, we actually think that it provides investors with the best path forward. First Horizon shares, at their current price of $21.77/share are trading $3.23/share below the $25/share all cash takeover price, or almost 15% below the takeover offer. In another deal we are watching closely, where hedge fund Standard General is trying to take over TEGNA (TGNA), we have seen just how closely the government is going to look at transactions so the 15% discount in our opinion is not crazy. It also highlights the risks associated with the deal, especially as we get later into the year and closer to the November 27, 2022 date (which was initially thought to be well past the closing date) which then sees a $0.65/share annualized ticking fee kick in – with a key point being that the transaction would automatically terminate on February 27, 2023 unless both parties extended the deadline. So yes, 15% upside is pretty decent on an M&A play after the deal is announced but one has to keep in mind that there is just about 30% downside (shares could fall as low as $15.25/share) if the merger were to fall apart. Right now, we suspect that owning First Horizon shares is a "good money" trade but getting more information next week will be key to solidifying that stance.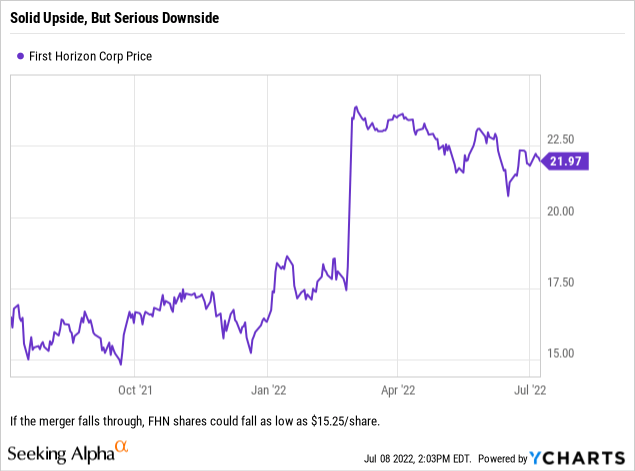 If the meeting goes well and the outcome (which will be announced at a later date) appears that it will be similar to the concessions that U.S. Bancorp made, then we think that investors will be able to add exposure to First Horizon ahead of their August 18th meeting so long as they purchase shares below $22.50/share. We feel comfortable with this as it leaves plenty of upside ahead of the meeting to balance out your risk/reward and there is a roadmap for Toronto-Dominion to use to help streamline their interactions with community groups (we would also point out that many of the typical worries about branch closures, staff reductions, etc. have already been addressed so the main issue will surround lending to underinvested and underbanked areas).
Ordinarily, getting involved in a trade which has 2:1 downside risk is a bad idea, but in the M&A space this is not the worst ratio and is actually pretty reasonable – especially when one considers that Toronto-Dominion is in fact a very motivated buyer. Already they have announced that there are no plans (and yes, we understand plans change, especially when there are branches quite close to each other) to close any First Horizon branches (it was the 4th bullet point in the merger announcement) and, after having been rumored to have missed out to fellow Canadian bank BMO for Bank of the West, it is clear that they are eager to put their capital to work.
Closing Summary
We are generally bullish this trade, but due to the unknowns of an aggressive Administration we want to hedge our risk a little by rating First Horizon shares a 'Hold' ahead of BMO's meeting on July 14th. We believe after that meeting that First Horizon shares will most likely be a 'Buy' based on the additional insights investors are able to gather, but recognize that a bomb could be dropped that throws a wrench in big bank M&A for at least the next 2+ years. So holding for current investors, and waiting to buy for those looking to get into the trade seems to be the most logical play at this point in time.