Proto Labs Stock: Not A Great Prospect Until Issues Clear Up (NYSE:PRLB)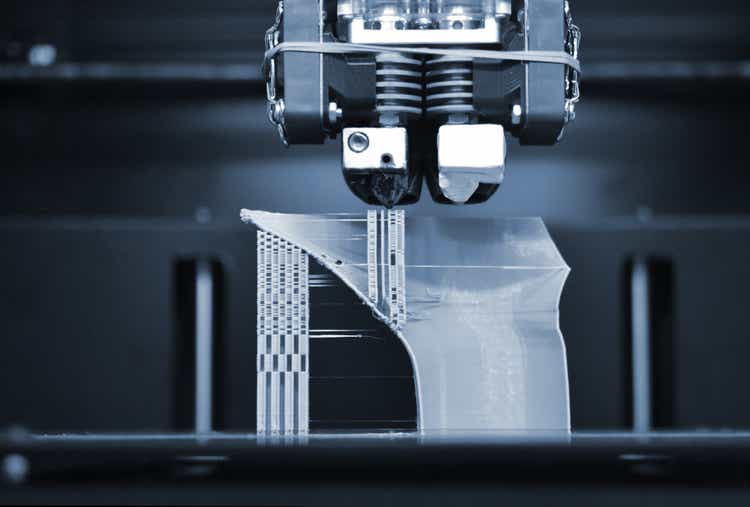 One of the most unique companies on the market today is Proto Labs (NYSE:PRLB). This firm, which operates as one of the world's largest and fastest digital manufacturers of custom prototypes and on-demand production parts, has generally performed well in recent years. Revenue has mostly trended higher, but profitability has not always followed suit. In recent months, shares of the enterprise have taken quite a beating, not only following the market lower but also performing worse than it. The good news, at least, is that the company does look cheaper than some similar firms. But in the grand scheme of things, the company is still expensive from an earnings perspective, and, at best, it is more or less fairly valued from a cash flow perspective. Because of this, I have decided to retain my 'hold' rating on the company, indicating my belief that its returns will probably more or less match the broader market moving forward.
Continued mixed performance
Back in November of 2021, I wrote my first article about Proto Labs. In that article, I classified the company as a valid play on the additive manufacturing market. I acknowledged that the company had experienced some pain recently, including some pain that existed prior to the COVID-19 pandemic. Even so, I viewed the company as being on solid footing and I said that as future was likely bright even though the 2021 fiscal year would probably be difficult. At the end of the day, however, the lofty trading price of the company, combined with its historical bottom line volatility, led me to rate it a 'hold'. Since then, the business has performed only slightly worse than I would have anticipated. With the S&P 500 down by 18.1%, shares of Proto Labs are down 22.3%.
More likely than not, this recent downside is attributable to concerns that a weakening economy might lead companies to cutting back on additive manufacturing and other related services. Although additive manufacturing, more commonly referred to as 3D printing, has the potential to save customers money, it can also be a rather expensive endeavor when it's substituted for general production. Its best role is as a means for the on-demand products and prototyping that Proto Labs emphasizes.

Another issue seems to be the volatility of Proto Labs from a fundamental perspective. Consider results generated in 2021. On the positive side, the company saw revenue increase nicely, climbing 12.4% from $434.4 million in 2020 to $488.1 million last year. On the other hand, profitability for the company was worse across the board. Net income last year came in at $33.4 million. That represents a decrease of 34.4% compared to the $50.9 million reported for 2020. It also marks the third year in a row in which profitability fell sequentially. Other profitability metrics also followed suit. Operating cash flow went from $107 million down to $55.2 million. If we adjust for changes in working capital, it would have fallen from $105.8 million to $80.9 million. And EBITDA ultimately declined from $107.9 million to $89.5 million.
Bottom line performance for 2021 largely suffered because of increased costs. For instance, the company saw its gross profit margin shrink from 50.1% in 2020 to 45.6% last year. Management attributed this to a couple of factors. Of the $48.8 million increase in cost revenue for the year, $28.2 million resulted from its acquisition of Hubs, while $20.6 million came as a result of increased volumes and wage inflation for the company, including increased overtime as the business suffered with a labor shortage. Raw material costs were also a component of this, accounting for $9.6 million of the increase. Other costs for the company also rose, with marketing and sales costs climbing from 16% of revenue to 16.8%, while research and development costs rose from 8.5% to 9.1%. Even worse was the increase in general and administrative expenses, which ultimately rose from 11.9% of revenue to 14%, with much of that cost increase coming from its aforementioned acquisition and from a $5 million rise in professional service expenses.

This kind of mixed performance continued into the 2022 fiscal year. Revenue, for instance, managed to increase, rising from $116.1 million in the first quarter of 2021 to $124.2 million the same time this year. That translates to a year-over-year growth rate of 7%. Profitability metrics were mixed. Net income jumped, climbing from $3.7 million to $5.1 million. Operating cash flow also improved, rising from $6.4 million to $17.8 million. But if we adjust for changes in working capital, it would have fallen from $19.4 million down to $16.6 million, while EBITDA declined from $22.7 million to $22.3 million.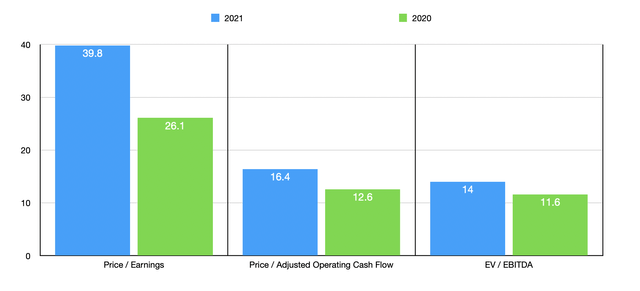 While it would be tempting to try and project out the company's financial performance for the 2022 fiscal year, the historical volatility of its bottom line makes this impractical. In addition to that, management has not provided any real guidance for the current fiscal year. Because of that, we will have to rely on the company's 2021 results. In addition to valuing the company based on that, I also decided to value it based on its 2020 results. On a price-to-earnings basis, the firm is trading at a multiple of 39.8. That's up from the 26.1 that we get if we use the performance the company generated in 2020. The price to adjusted operating cash flow multiple, meanwhile, should be 16.4. That compares to the 12.6 reading we get if we rely on 2020 results. For the EV to EBITDA approach, the multiple was 14. That's up from the 11.6 reading that we get if we rely on the data generated for 2020. As part of my analysis, I also compared the company to five other industrial machinery firms. On a price-to-earnings basis, these companies range from a low of 15.7 to a high of 262.9. And when it comes to the EV to EBITDA approach, the range was from 9.1 to 94.5. In both cases, two of the five companies were cheaper than Proto Labs. When it comes to the price to operating cash flow approach, the range was from 12.9 to 1,074. Only one of the five companies was cheaper than our prospect here.
| | | | |
| --- | --- | --- | --- |
| Company | Price / Earnings | Price / Operating Cash Flow | EV / EBITDA |
| Proto Labs | 39.8 | 16.4 | 14.0 |
| Kornit Digital (KRNT) | 262.9 | 1,074.0 | 94.5 |
| Tennant Company (TNC) | 22.6 | 27.3 | 11.4 |
| Enerpac Tool Group (EPAC) | 99.7 | 31.5 | 23.3 |
| Energy Recovery, Inc. (ERII) | 71.0 | 94.6 | 45.5 |
| Barnes Group (B) | 15.7 | 12.9 | 9.1 |
Takeaway
Right now, it seems to me as though Proto Labs is experiencing some difficulties on its bottom line, largely as a result of costs associated with its acquisition of Hubs and because of increased labor, raw materials, and other related costs. Short term, this could prove painful for shareholders. But the continued growth in the company's top line is promising. If shares were priced at 2020 levels, I think I could come to rate the business a 'buy'. But until we know how long some of the company's pain on the bottom line will last, I have decided to rate it a 'hold'.