Siemens Stock – Now More Of A 'Buy' (OTCMKTS:SIEGY)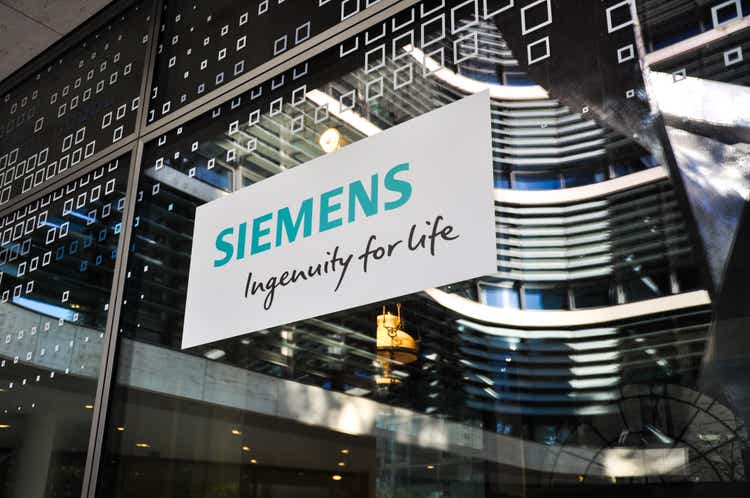 Author's Note: This is the free version of an article published on iREIT on Alpha on the 24th of June 2022.
In this article, I'll be revisiting Siemens. I've gotten a few requests to look at the business, and there's a lot to like about Siemens at the right price. This, I believe, is a "good price" here.
And I will show you why.
Siemens – Looking forward
As I mentioned in my initial article here on SA, Siemens (OTCPK: SIEGY) is a German industrial legacy. Years ago, when I spent time in southern Germany, I was in villages where the entire population, one way or another, worked at a variety of Siemens plants, or offices.
This company is a business that's active in a variety of different fields. It's an industrial conglomerate that's gone from a corporate structure similar to General Electric (GE) to a structure somewhat different following some spin-offs, divestments, and rotations.
My shareholding in the company at this point is over 8 years in the past. Siemens has a market capitalization of over €90B. It's the largest industrial manufacturing business in all of Europe, with 300,000+ employees across the globe.
During the last decade and more, Siemens has very much shifted its corporate structure. From a large conglomerate with a multitude of segments, Siemens decided to start spinning off its various businesses into their own publicly-listed companies, usually while maintaining some type of stake in them.
Many of these businesses deserve their own, separate articles, and that's what I'll do when looking deeper at them, when necessary. For now, here we're looking at the company Siemens. Siemens left the nuclear sector, where it had previously built reactors, in 2011. They left telecommunications in 2013, when Nokia (NOK) acquired their network division. They left gas turbines and compressors in 2014, acquired by Rolls-Royce (OTCPK:RYCEF). Its train operations were merged with Alstom (OTCPK:ALSMY) (OTCPK:AOMFF).
The company's current structure is split into the following divisions:
Digital Industries – focusing on utilizing data to the fullest extent through technology integration. It offers end-to-end solutions and services for integrating and digitizing the entire company value chain.
Smart Infrastructure – is the segment focusing on combining digital and real-world energy systems.
Mobility – Focusing on rail, road, and intermodal solutions including electrification, signal and control technology, the full range of vehicles for rail traffic, consulting and planning, maintenance, and IT-based mobility. Customers here are nations, usually not businesses.
Healthineers (in the form of a huge stake).
Financial Services
The concept of "streamlining" a conglomerate is one that Siemens, therefore, over the past decade, has perfected. The main differentiator between Siemens and its closest peer GE is that GE is keeping its legacy turbine and other industrial activities while leaving behind the software. Siemens is doing the exact opposite of this. They are remaining in the software part of the business but divesting asset/CaPex-heavy industrial segments.
This is a European approach. Schneider (OTCPK:SBGSY) and ABB (ABB) are approaching these problems in a similar manner, turning to tech focus and asset-lighter structures for more flexibility and, hopefully, profitability.
The company's credit rating reflects its stellar structure. It's A+ rated and at the current price has a dividend yield of over 4% following the recent decline. The company's dividend has a very strong tradition, despite the occasional small cut when EPS necessitated this.
All of the company's business segments are heavily aligned with where Siemens sees the world going and focusing for the next 25-75 years. As I'm looking at this company in 2022, the group's transformation process that began over a decade ago is almost complete.
Siemens has divested its low-margin businesses to operate independently while keeping its high-margin businesses to allow them to really deliver value.
Recent results for Siemens have been positive, despite what the market would suggest. The company confirmed its 2022 outlook in the latest earnings call, 2Q22, but despite this, the profitability missed overall estimates.
Why was this?
Because of Russian asset writedowns. Siemens has decided to completely abandon Russia as a geography, which came with some penalizing impairments that turned profitability down south. However, people are focusing, as I see it, on the wrong number.
Siemens reported order increases of 32% YoY, revenue increases of 16% YoY, and an increased Free cash flow of 9% YoY. Yes, Profit margins, net income, and EPS margins saw one-time crash-ins due to impairments. But the company guides for a book-to-bill ratio above 1X for 2022, and a comp revenue growth of 6-8%, as well as full-year EPS of up to €9.1.
That means that based on company guidance, Siemens at a native share price of €99/share is trading at less than 11X P/E. This is a very low valuation for the company, historically and realistically.
The double-digit business intake growth stole the show here. Tailwinds in the form of FX added to results as well. The Russian impairments came to €600M in Mobility alone. DI and SI also took small hits from leaving Russia. However, the fundamentals remained absolutely solid. The company's CFO stood at €1.8B quarterly, and the company's industrial net debt remained at below 1.7X to EBITDA. Siemens deserves its A+ and safety.
The results for 2Q22 are an optical negative due to the write-downs. However, on a realistic, mathematical basis, the company has confirmed positive outlooks and even bumped up revenue guidance. My early estimates have been adjusted accordingly for the impact, and I've fine-tuned my models somewhat.
However, readers and followers shouldn't expect me to change my targets all that much, because the company's current trends don't warrant or justify it. Let's look at the valuation for the company more in detail.
Siemens Valuation
Siemens's valuation is complex in the sense that all of its various portfolio companies and assets need to be properly accounted for in every single model. Since listing Healthineers and Energy, it's obvious that the company-wide margins should be able to be improved (given that Energy/Healthineers were relatively low-margin businesses), while at the same time being able to grow those sales due to the high penetration of software/SaaS.
This opens valuation up to NAV sensitivity, given that we need to be careful exactly how we value DI and SI to reflect the potential of large sales growth in the future. Due to the high margins and growth, I'm using valuation ranges in NAV of 12-15X EBIT multiples. This is admitting also, that the DI segment can be somewhat volatile.
In my previous article, I specified a DCF model that included 3-4% EBITDA growth but that drops to 3.3% (adjusted 0.2% based on the latest quarter). It's important not to underestimate the company's potential due to the correlation to infrastructure spending. Typically, we can expect Siemens to yield no higher than a 2-3% yield – the fact that we're now up to 4% is quite amazing, truth be told. My DCF, using a 3-4% EBITDA growth, somewhat higher Working capital, and a 2% CapEx/sales growth in accordance with historical numbers implies an EV/share value of €135-€145, fairly conservative. That is a target I'm not adjusting all that much here either.
As I mentioned in my last piece, Siemens has several peers, but none as large or as significant as Siemens itself.
Schneider Electric is one, and ABB, Atlas Copco (OTCPK:ATLKY) exist as well. There's Alstom, Philips (PHG), and others as well. Including Alstom means a significant average P/E impact, but due to companies like Copco, the average P/E for this comp group is still close to 20X. Consider this when you're thinking that 10-11X P/E still sounds high – for one of the world's largest conglomerates, it is not high. Not in the least. If this was a year ago, and Siemens was trading at 10-11X P/E, I would have been calling this my #1, no-nonsense, Strong "BUY".
That's of course not where we are, so it's not as easy as that. The entire market is devalued, and the European market is even more so. What this does is it make this a more comparable appeal/thesis, with respect needing to be paid to every comparable investment out there.
It also means that you need to look at your portfolio, to see where your relative exposure lies. If you already have 5% Siemens, I wouldn't go above 5% in any company on the get-go in my own portfolio.
Siemens is, based on a combined NAV, DCF, and peer comparison, a "BUY" here. I'm nudging my near-term PT for Siemens down by €5/share to reflect the market uncertainty, but that is all I am doing here. The massive upside for the company here is very much intact.
When it comes to looking at Siemens, I look at the EU market as a whole – and while there are investments with a technically higher upside here, Siemens has the stability that these other businesses, such as BASF (OTCQX:BASFY) do not. Don't get me wrong. BASF has a better yield and upside – that's why I'm invested to the gills in BASF before I'm invested fully in Siemens. Both companies are A-rated or equivalent. Both are "BUY".
But Siemens is a company that I consider safer for the short and medium-term than I do BASF.
Siemens currently trades well below 15X P/E. This is despite a significantly higher yield than peers, a better P/Book multiple, and a same-level EV/EBITDA multiple. I'm applying a 10% premium across the board for Siemens to reflect that it is better than all of the businesses mentioned in terms of diversification, size, and structure; only Schneider and ABB come close.
S&P Global targets a valuation range between €117 on the low end and €207 on the high end. I do not know how anyone could reach €207/share for Siemens, except by applying such positive premia or growth assumptions that you're really out in troubled waters – as I see it. Even the average of €164/share is massively high here. S&P Global's 24 analysts, 18 of which are still, compared to my last article, at "BUY" or "Outperform" here, are being very positive with their assumptions for the various segments.
I prefer being somewhat more conservative. My average weighted price target even with a 10% premium to the company comes to no more than €134.4, making it €135/share.
Thesis
Siemens is a beyond-solid company. It's so far beyond solid that it's one of the 20 companies in my "Buy-and-hold-forever" list, along with businesses like BlackRock (BLK), Airbus (OTCPK:EADSY), and LVMH (OTCPK:LVMUY). On that list, we also find Swedish businesses like Castellum (OTCPK:CWQXF) and Axfood (OTCPK:AXFOF). These are businesses that I would buy, then be comfortable never checking on again, simply collecting those premiums until the end of my days.
The relevant ADR for Siemens is SIEGY. This is an extremely liquid 0.5X ADR. It reflects the native very well, and also shows the crash we've been seeing since the war began.
The upside for this ADR, and for Siemens is enhanced, as you might expect from what I've written. The company has an 18.5X average premium. This means that the average upside for Siemens here is no less than a 35% average annual upside to an 18.5X until 2022, almost 100% on an A-rated conglomerate.
Siemens is most certainly undervalued here, and its future is very bright. While analysts do miss estimates, they don't miss them by much more than 15-20%, so usually, the overall long-term trajectory is right, even if the last 10 years of spin-offs have made it hard to estimate things exactly.
Equity analysts have an upside to the company of a €143 PT, which comes to 44% or so. My upside is obviously a bit lower here, but the long-term potential is very much realistically there.
That's why Siemens is currently on the top 5 of my "BUY" list.
I already own a full position in BASF – I will invest more if it drops below €37/share. I do not yet own a full position in Siemens – I will invest more here as it drops.
PT is €135, and this is a "BUY".