Southwest Gas Holdings: Inflation Hedge And Beyond (NYSE:SWX)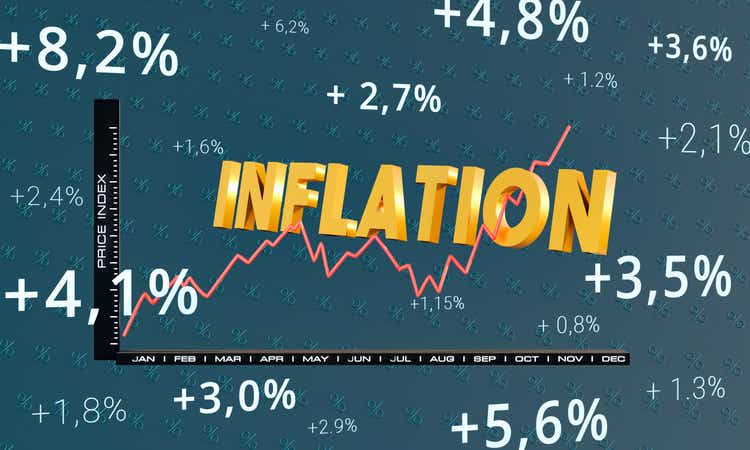 Investment Thesis
According to the latest data by the Bureau of Labor Statistics, the inflation rate in the U.S. has reached its highest point since 1981 at 8.6% in May 2022. This has been fueled by a 34.6% rise in energy prices, attributable to a 48.7% rise in gasoline, 106.7% in fuel oil (the largest increase ever recorded), 12% in electricity (the largest 12-month increase since August 2006), and 30.2% in natural gas (the highest since July 2008).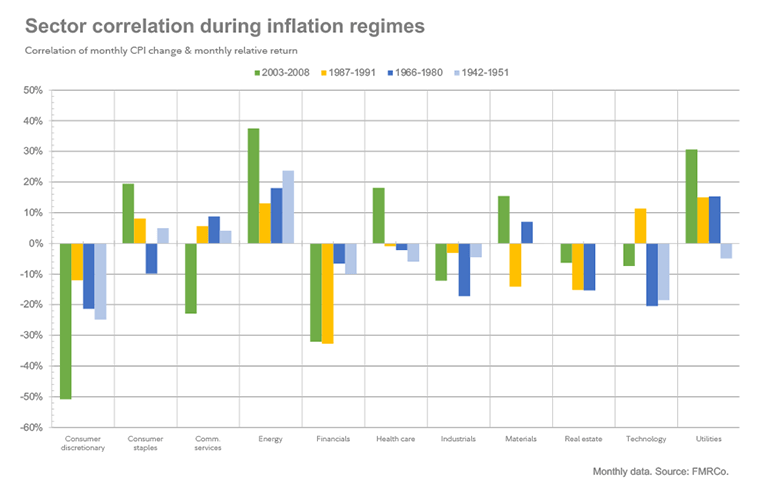 Historically, energy companies have proven to be the best performers in times of high inflation, and the recent surge is a testament to this fact. Southwest Gas Holdings, Inc. (NYSE:SWX) has been a beneficiary of this industry momentum and has outperformed the market and the industry's total returns, with a 27.63% YTD and a 35.78% 52-week total return.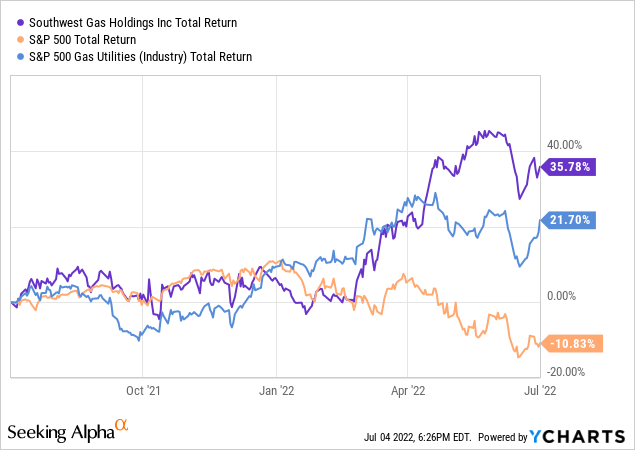 Utility stocks are an amazing inflation hedge, and SWX is well-positioned for generating meaningful returns despite trading at a near all-time high of $85 per share. Even though I would prefer if the stock were cheaper, I expect it to make up for this by reaching new all-time highs during the upcoming winter as it posts record-breaking revenues.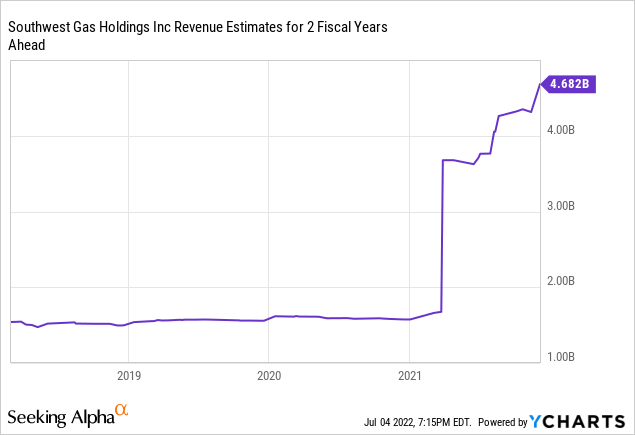 Company Overview
Southwest purchases, distributes, and transports natural gas for customers in Arizona, Nevada, and California, subject to regulatory oversight of its public utility rates, practices, facilities, and service.
Southwest's business unit, MountainWest, controls the Dominion Energy Questar Pipeline, which it acquired in December 2021, to diversify its operations into the midstream sector by expanding its interstate natural gas pipelines and underground storage services. Thus, expanding its natural gas transportation services into Utah, Wyoming, and Colorado.
Southwest's third arm, Centuri, is a strategic utility infrastructure services company that partners with North American utility providers to build and maintain the energy network. Its revenue streams include installing, replacing, repairing, and maintaining energy networks. Southwest is spinning Centuri off within 9 months, distributing a prorated dividend of Centuri shares to its shareholders post-transaction.
| | | | | |
| --- | --- | --- | --- | --- |
| Q1 2022 Results ('000) | Southwest Gas | MountainWest | Centuri | Total |
| Revenue | 676,539 | 66,993 | 523,877 | 1,267,409 |
| YoY Growth | 29.62% | – | 43.93% | 43.06% |
| % of Total Revenue | 53.38% | 5.29% | 41.33% | 100.00% |
Energy Stocks and Inflation: Two Peas in a Pod
Historically, inflation above 9% isn't easily curbed. Larry Summers, the former Treasury secretary and Obama administration advisor, recently published a paper supporting this. He iterated that the Fed will need to impose harsher measures to curb inflation, as it did in the '80s when the inflation was 14.8%. In fact, up until now, the gain in utility stocks has consistently kept up with the rising interest rates, further solidifying its disinterest in going down without a fight.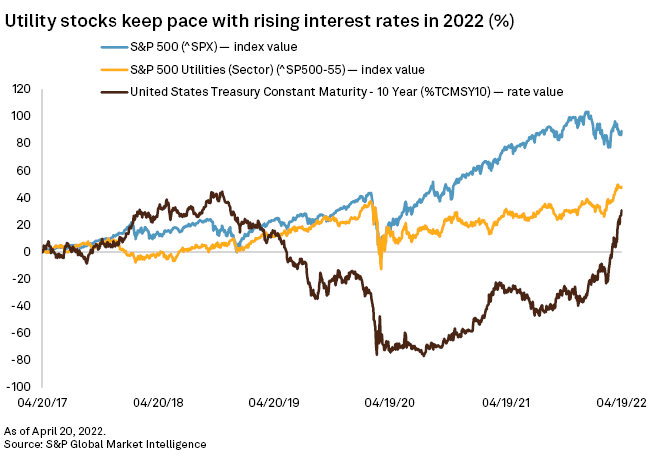 At the same time, the energy sector is precedented to outperform the market in times of high inflation. Given the inflation projection of 8.7% for June 2022, it does not seem like the energy prices are going down anytime soon amid the Russia-Ukraine conflict, which has strained the global economy, spiraling the global energy pricing market on an upward trajectory.
The current trend has been especially favorable to Gas utility stocks which have soared higher than other utilities in the previous year and YTD.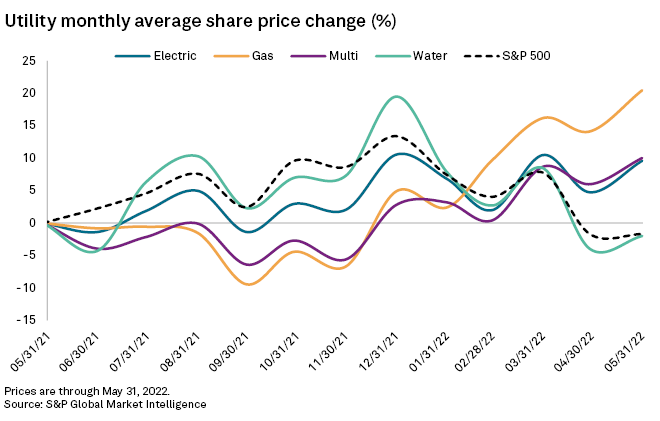 Rising Prices Mean Higher Revenues
The revenue recognized by utility companies, such as SWX, is dependent on the rate charged to customers, which varies according to customer class and jurisdiction. The rates are imposed by the states and the federal regulatory commissions that govern the service territories. The company makes periodic filings to the regulatory authority for rate adjustments to cover all the approved service provision costs (including the cost of natural gas) and a reasonable return on investment.
The company filed a general rate case application in Arizona in December 2021, proposing a revenue increase of approximately $90.7 million with an ROE of 9.90% relative to a target equity ratio of 51%. The hearing for this agenda is expected in late September or early October.
In contrast, Nevada recently approved a $14.05 million rate relief for SWX with an ROE of 9.40% and a 50% target equity ratio, effective from April 2022.
These requests reflect Southwest's substantial capital investments, including the customer information system implemented in May 2021. The company invested $715.6 million in 2021 and expects to invest between $2.5 and $3.5 billion by 2026, including about $650-$700 million in 2022.
These higher rates translate to higher revenues and earnings, making SWX one of the beneficiaries of the current macroeconomic and geopolitical factors. This has been apparent in the company's financial statements, which recorded over 43% YoY and 17% sequential revenue growth in the MRQ.
Southwest's revenue growth didn't rely solely on the pricing market but also demonstrated a $7 million operating income hike through customer growth, including over 38,000 first-time meter sets during the previous twelve months. The company's operating margin indicates steady and sustainable growth with over 2.17 million customers, including over 99% residential and small commercial customers.
Valuation
Going by the relative valuation metrics, Southwest seems to be fairly valued, getting Seeking Alpha's "C" grade. Considering these metrics, the stock is about 6% undervalued compared to industry medians on average and 11% overvalued than its 5-year average. This is to be expected as the stock is currently trading at an almost all-time-high price of about $85.
However, Southwest is one of the less volatile stocks in the Gas utility sector, with a very low 60 months beta of 0.1 and high long-term growth expectations. This leads to the company being placed in the upper left quadrant of the below chart, indicating a possible undervaluation due to high long-term EPS growth expectations and a relatively lower forward P/E ratio.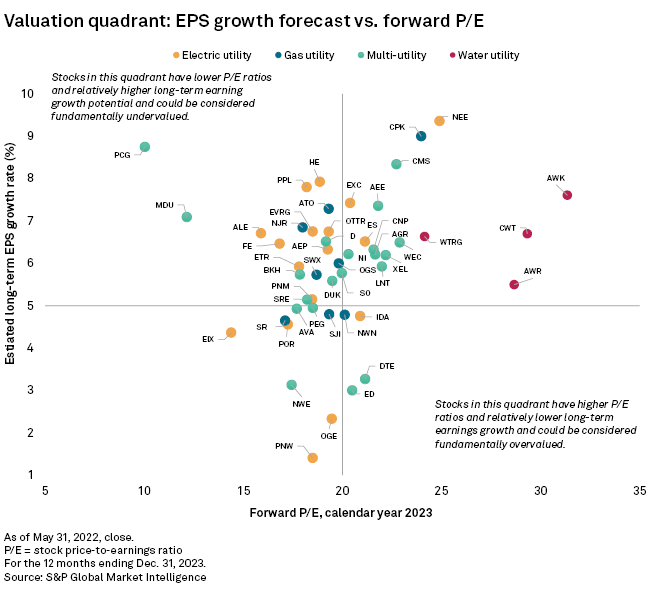 Debt & Liquidity
The company has recently undertaken significant pipe replacement activities to fortify system integrity and reliability, including certain gas infrastructure replacement programs, which have resulted in the company's debt being doubled during the previous 12 months through the issuance of debt instruments, including $600 million 4.05% Senior Notes issued in March 2022. A portion of these proceeds was subsequently used to settle the credit facility in March and redeem maturing 3.875% Senior Notes worth $250 million in April.
Additionally, the company's $1.6 billion delayed-draw Term Loan Facility concerning the MountainWest acquisition matures in December 2022. It will need to be settled by either issuing new debt or equity securities. The company recently issued common stock to raise liquid funds and used around $450 million of these funds in the MRQ to pay off a portion of the Term Loan Facility, bringing the outstanding balance to $1.16 billion.
The company's balance sheet position is poised to improve despite the surface tensions. It reduced its total debt to equity ratio by paying out over $700 million in Q1 and raised its book value per share and liquidity ratios in the MRQ.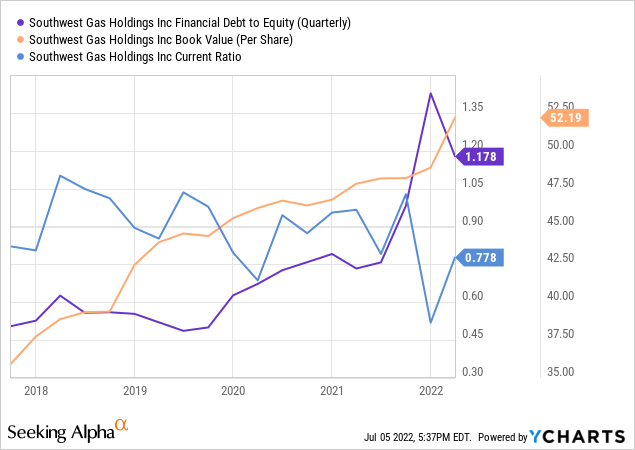 Conclusion
Southwest's balance sheet may need some imminent improvement. Still, it looks like the company is en route to a stronger financial position with the accretive acquisition of MountainWest, diversifying the business with over 2,000 miles of highly contracted, FERC-regulated interstate natural gas pipelines providing transportation and underground storage services in Utah, Wyoming, and Colorado and creating synergies.
MountainWest will start pitching into the company's earnings in 2022 with expected revenues between $240 and $245 million and a run rate EBITDA margin of 68% to 72%.
Concurrently, favorable market conditions are a major factor for a bullish stock rating as it is one of the lowest volatility stocks with outperforming results amid a highly volatile, bearish market.
PS: The article focuses mainly on systemic risks and rewards rather than idiosyncratic issues such as the Icahn settlement, as systemic factors and its fundamentals dictate the long-term trajectory of the stock.