This Is How Much You Should Tip At Massage Envy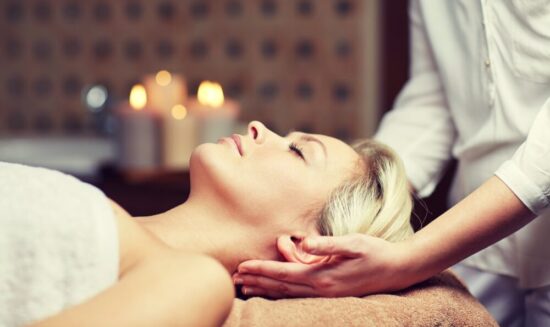 For most spa, beauty, or similar treatments, tipping is a common practice. However, figuring out how much to give isn't always easy. As a result, some people head to Massage Envy not knowing whether tipping is appropriate or required or how much they should give after receiving a massage. If you're curious, here's a look at how much you should tip at Massage Envy.
Is Tipping Required at Massage Envy?
Before diving into how much you should tip at Massage Envy, it's essential to understand that tipping is never legally required. Tips – also known as gratuities – are typically optional. They're designed as a way to thank someone for doing a great job.
In most cases, you should tip if the massage met or exceeded your expectations. However, if something goes awry beyond a simple mistake that is ultimately corrected, then don't feel obligated to tip. Additionally, speak to a manager about what occurred, ensuring it's clear why you were dissatisfied with the experience and, if necessary, ensuring management has the information they need to take corrective action.
How Much You Should Tip at Massage Envy
In most cases, tips represent a percentage of the total cost of a service. The general rule of thumb is to aim for a tip in the 10 to 20 percent range, opting for the higher end if the service exceeded your expectations or if you're a member and the massage at least met expectations.
Precisely what that works out to will depend on whether you're a member or a non-member and the services you choose. Non-members pay more for services than members. As a result, members may want to err on the side of offering a higher percentage since their cost is lower. Members could also base their tip on the non-member rate instead, as that may simplify the calculation.
It's also important to note that service pricing can vary at different Massage Envy locations. As a result, it's best to see what the cost is at the location you're visiting in advance. Then, prepare for a 20 percent tip based on the non-member price, ensuring you have what you need available to tip based on the quality of the service.
In many cases, the receptionists at Massage Envy can also give you insights. Most are able to show you a list of recommended tip amounts based on the service costs at that location. Now, it's critical to note that these are suggestions, not requirements. You can choose to offer a larger or smaller tip based on your experience when the services are provided.
Is Tipping a Good Idea at Massage Envy?
In most cases, it's best to provide a reasonable tip when you get any services at Massage Envy, particularly if you use the same location repeatedly and especially if you get your services from the same employee. Tipping appropriately allows you to recognize the service provider's efforts while developing a positive rapport.
In some cases, that can work in your favor, increasing the odds that special requests will be accommodated and making it more likely that the location and service provider is happy to see you again. Since cementing your reputation as a kind customer does have benefits, it's best to tip as long as the experience at least meets your expectations.
Do you think the amount above is an appropriate tip at Massage Envy? Do you usually tip a different amount at Massage Envy and want to let others know how much you typically give? Share your thoughts in the comments below.
Read More:
Come back to what you love! Dollardig.com is the most reliable cash back site on the web. Just sign up, click, shop and get full cash back!