Twitter Deal Is Falling Apart: What To Know (NYSE:TWTR)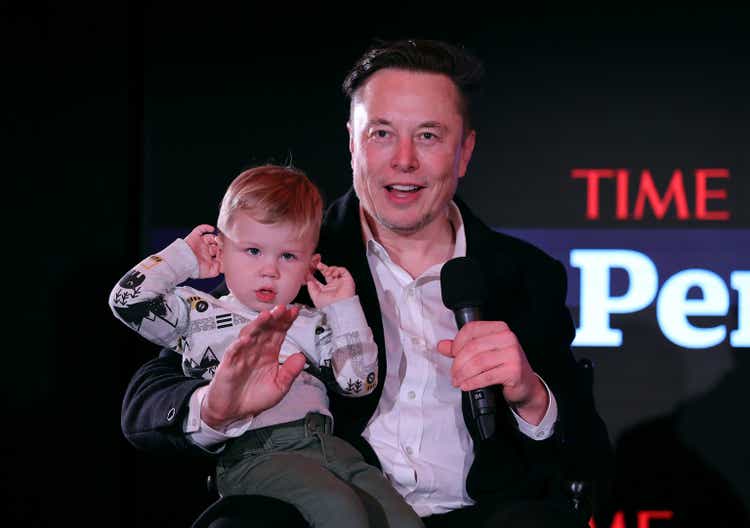 Elon Musk (TSLA) might not be buying Twitter, Inc. (NYSE:TWTR) after all. On Friday July 8th, Musk officially submitted notice that he is terminating the deal. The stock had already plunged sharply from the $50 level that it traded at when the deal was announced.
The takeover saga might not be over, as TWTR may try to collect the $1 billion termination fee and force Musk to fulfill his agreement anyways. The stock is trading cheaply even without any deal – making the stock highly buyable in spite of all the drama.
TWTR Stock Price
TWTR has found itself trading below $37 per share – sharply lower than the $54.20 per share takeover price.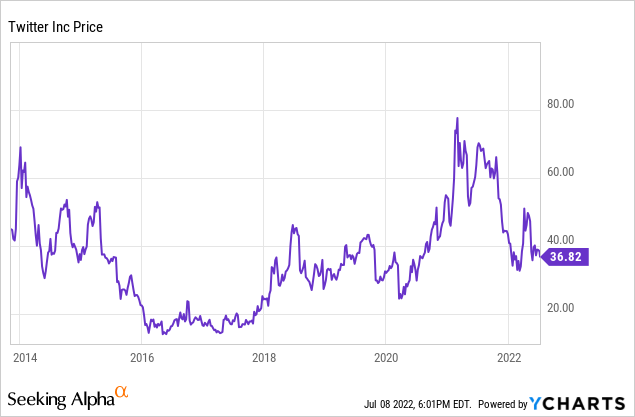 That price places it lower than even its early days as a public company. The stock has been pricing in the risk of the deal falling apart for weeks now, but this pessimism has gone too far. I last covered the stock in April soon after the deal was announced, stating that the arbitrage spread was too slim to chase after. After the recent slide, the stock is once again highly buyable.
TWTR Stock Key Metrics
In the latest quarter, TWTR saw a slowdown in growth that was to be expected considering the macro headwinds and tough comparables. Revenue grew 16% to $1.2 billion, or 22% excluding MoPub and MoPub Acquire, which it had sold to AppLovin (APP) earlier in the year. TWTR generated net income of $513 million, but that included realized gains of $970 million due to the aforementioned MoPub transaction. Excluding that realized gain, TWTR was not profitable even on a non-GAAP basis.
TWTR was active in the capital markets during the quarter, repurchasing $2 billion of stock. The company ended the quarter with $6.3 billion of cash versus $5.1 billion of debt. TWTR did disclose that it had previously miscounted its user base and gave new numbers as follows:

The discrepancy was not that large (the new growth rate is actually higher), but only added fuel to the fire as Musk has apparently been trying to get out of the deal for quite some time already.
Twitter Deal In Jeopardy
The deal looked to be in good shape when the company disclosed that upon internal review, less than 5% of users were bots. There was already great skepticism regarding the deal going through, as analyst Dan Ives saw the deal being renegotiated to between $42 and $45 per share. Then Friday saw Musk officially submit a notice of termination of the deal – citing his lack of confidence in the number of bots on the platform. The stock fell after hours, but I expect ongoing weakness this coming week.
This might not be the end of the drama, however, as TWTR can claim that the bots issue is not enough for Musk to unilaterally terminate the deal. There is a $1 billion termination fee, not to mention the legal commitment to acquire the company. It remains to be seen if this latest move by Musk is just an attempt to lower the acquisition price and whether or not he will prove successful in this change of heart.
Is TWTR Stock A Buy, Sell, or Hold?
Unlike just several months ago when the stock was presenting minimal upside to the $54.20 purchase price, TWTR stock is now trading at compelling levels. The stock trades with nearly 50% upside to the original takeout price – but even without a successful takeover outcome, the stock is trading cheaply in its own right. TWTR is now trading at just 5x 2022e sales.

This company is expected to grow revenues at a double-digit rate for many years. As a TWTR user myself, I can anecdotally state that the platform still feels under-monetized. TWTR has a strong net-cash balance sheet and has been generating positive cash from operations for many years. The stock trades like a high-risk story, but that is more to do with the pessimistic sentiment in the tech sector than the actual fundamentals.
I could see TWTR eventually generating at least a 30% net margin over the long term. Assuming a 1.5x price to earnings growth ratio ('PEG ratio'), TWTR might trade around 7x sales in 2027. That represents a stock price of $112 per share, or 25% compounded returns over the next 5 years.
There are some risks to consider. In the near term, TWTR stock might trade lower due to both the deal falling apart as well as the fact that peers like Snapchat (SNAP) and Meta Platforms (META) trade at more compelling valuations. The long-term risk is if TWTR loses relevance and is unable to grow its user base, as that would threaten its secular growth story.
While the change of heart from prolific Twitter user Musk is not a positive development, the platform does appear to retain unique value, at least in my humble opinion. At current prices, one is not paying so much to count on reasonable execution moving forward. I rate the stock a strong buy on account of the fairly safe financial metrics (net cash balance sheet, persistent growth, positive cash flows) and deep undervaluation.