Upstart Stock: The Investment Case Just Took A Serious Hit (NASDAQ:UPST)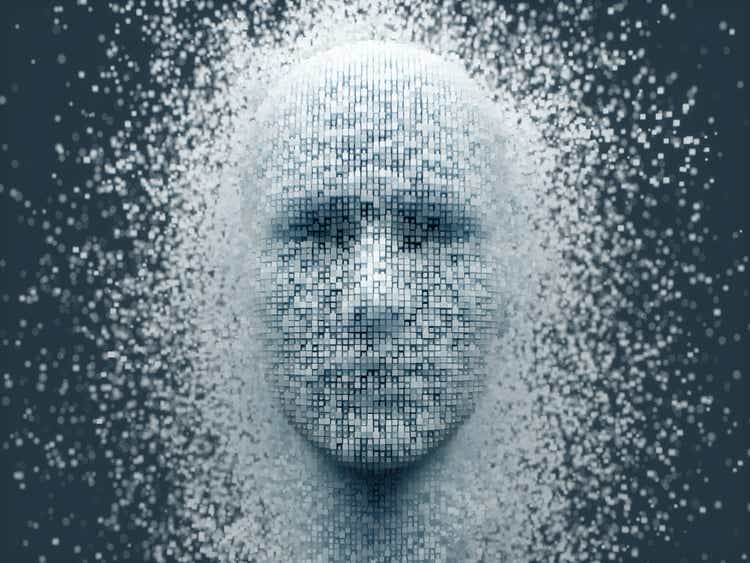 Upstart Holdings, Inc. (NASDAQ:UPST) revealed preliminary results for its second quarter yesterday, and to call the revenue figure a disappointment would be a gross misunderstanding of reality.
The company's revenue growth has slowed significantly, and the 'kitchen-sinking' of 2Q-22 results has added to Upstart's previous valuation losses.
Unfortunately, I was incorrect about Upstart and believe that the company's investment thesis has effectively gone.
Preliminary Results Were A Disaster
Upstart's stock has been down 78% year-to-date, and the announcement of preliminary second quarter numbers, which can be seen here, will almost certainly add significant selling pressure to the stock in the near future.
What was so terrible about the preliminary release of 2Q-22 financials?
Upstart missed its sales forecast for the second quarter by a wide margin. The AI-lending business, which uses artificial intelligence technology to automate the lending decision process, planned for revenues of $295 to $305 million but only reported unaudited 2Q-22 revenues of $228 million.
The guidance was reduced due to lower demand for the company's loans, as well as increased risk aversion in a market fueled by higher interest rates and inflation. The Fintech also stated that it converted loans on its balance into cash, resulting in a revenue decrease in the second quarter. More information regarding Upstart's sales performance in 2Q-22 will be available only after the Fintech reports its earnings.
The reported result is 23% lower than the low-end ($295 million) of guidance, or $67 million below Upstart's low-end sales estimate just a quarter ago. Furthermore, the AI business forecasts net profits to be in the ($31)-($27) million area, after previously implying that Upstart had a chance of earning a black zero in the second quarter. The previous guidance projected a net income range of ($4) to $0 million.
In my opinion, the pre-release is an attempt to 'kitchen-sink' the quarter and prepare the market not only for a slowing in sales growth in the future but also for the prospect that the firm would no longer be able to function financially.
One of the main reasons I liked and suggested Upstart was that the company generated revenue quickly (156% YoY in 1Q-22) while also achieving profitable growth. The presence of net earnings ($32.7 million in 1Q-22) distinguished Upstart from other Fintech firms, many of whom are still losing money. With Upstart's pre-release of 2Q-22 results on July 7, these distinct characteristics completely vanished into thin air.
The impact for Upstart investors is that the AI loan company will also withdraw its 2022 revenue guidance when it announces its full 2Q-22 earnings after the market ends on August 8, 2022. The revenue guidance for 2022 was $1.25 billion, which is no longer attainable.
Upstart has already reduced its revenue projection for 2022, down from $1.40 billion in possible sales this year to $1.25 million. While contribution margins are predicted to remain stable in the second quarter, Upstart's growth prognosis has deteriorated significantly this week.
Upstart Is Set For A Correction
The worst thing that can happen to a growth stock like Upstart is for revenue guidance to be withdrawn in the face of a more adverse macro environment. The market is still forecasting $1.25 billion in sales for 2022, but Upstart is almost expected to withdraw this guidance when earnings for the second quarter are reported next month.
I believe that fresh guidance will be issued in August, with a revised revenue baseline of $1.0 billion. Upstart's sales multiple is 2.5x, however, the stock could become significantly more costly in the next days due to the uncertain revenue position.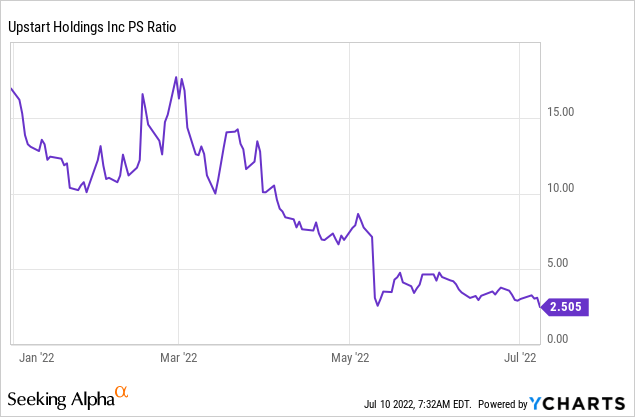 Why Upstart Holdings Could See An Increase In Valuation
Even though the overall opinion has grown highly gloomy, new alliances or acquisitions may have a beneficial impact on investor sentiment.
The announcement of preliminary figures crushed the investment thesis, and I believe the stock price will face huge pressure in the future. A significant client gain or collaboration with a bank or credit union may also help to mitigate the worsening in investor opinion.
My Conclusion
Upstart's early second quarter numbers definitely rocked the boat, and not in a good way. The income shortfall was simply too large, especially given that Upstart had already reduced its revenue forecast for 2022.
Upstart's short-term revenue prospects have deteriorated significantly, and investors have little to look forward to when the full second quarter earnings report is released in August.
Having said that, I was unfortunately incorrect in endorsing Upstart, despite the fact that I believe the firm has a strong position in its AI-lending specialty. Upstart's investment case has unfortunately died.